Introduction
LAT stands for Law Admission Test. It is now a compulsory test for taking admission to 5 years LL.B program. This is now a test for students who wish to be law graduates and want to pursue their careers in the field of Law and legal affairs in Pakistan. LAT (Law Admission Test) is a somewhat similar test to GRE, GAT, CAT, and many more similar tests that are currently happening in the Country. In this tutorial, you'll learn how to apply for LAT and how to prepare for LAT.
How to Apply for LAT (Law Admission Test)
HEC (Higher Education Commission) of Pakistan will conduct this Law Admission Test every year for admission in the 5 Years LL. B program. There was a dire need in the field of Law that it must become a total professional degree like MBBS, BDS, CA, and ACCA. So, through conducting this Law Admission Test and by changing the LL. B degree from 3 years program to 5 years program is regarded as a pleasant and good step for legal education.
HEC will announce the dates for the LAT every year. You can find the date for LAT through new papers or through the HEC website by following this link. When the date announces you have to fill out an online form by visiting the HEC website or following this link.
Who Can Apply for LAT (Law Admission Test)
The students who have just cleared their 12 years of education. Remember, the students who are waiting for their final results, are not allowed to apply for LAT. There is no limit that which scheme of education you have studied. For example, Medical, Engineering, Fine Arts, etc. All the students who have completed their 12 years (HSSC) or equivalent education are eligible to apply for LAT.
You have to submit a challan of Rs. 1800/- in account number (1742 7900 133401, Account Title: Higher Education Commission: Habib Bank branch code: 1742) to any branch of Habib Bank Limited (HBL).
Admission Process and Validity of LAT (Law Admission Test)
The Validity of this test will be for the next 2 years. You have to try to get maximum marks so that at the time of admission there will be no issue for you. Your admission is solely dependent upon the marks of your LAT marks and the marks you have obtained in your academic career.
➤

View LAT Past Paper
Paper Pattern for LAT (Law Admission Test)
There are 2 parts of the LAT (Law Admission Test):
Subjective (25 Marks)
Objective (75 Marks)
LAT Syllabus
The syllabus of LAT is given below:
Subjective (25 Marks)
In the subjective part of LAT, there will 2 questions.
Essay (in English or Urdu)
1. You have to write an Essay for 15 Marks either in the English language or in Urdu Language. There will be three to four topics will be given and you have to write an essay on any one topic. No limit of words is there but it is better if you write your essay between 200 to 250 words. Use simple and easy sentences and present your essay in a very polite and easy manner. Don't use heavy vocabulary in the essay paper. especially if the essay is on current affairs, then write simple words that you have listened to in the newspapers or read from any website. Please quote the reference of that incident or event.
Personal Statement
2. You have to write a Personal Statement of 10 marks. In the personal statement, you have to write what is your objective or motive behind doing LL.B. Write your reason in simple words why you want to become a lawyer. For example, if your parents want to see you as a Judge then simply write there that your parent wishes to see me as a Judge.
In this part, you can write multiple ideas about your career. But remember don't write more than 15 sentences in this part of the paper. The reason is the total marks are only 10 and you have no need to write so much content for 10 marks. Simply write your reason in 10 to 15 sentences and that will be Okay.
Note: One thing you must remember in this subjective part is, don't make grammar or spelling mistakes. Because the real purpose of this subjective part is to check the English of the students. In the field of Law, the use of the English language is more than Urdu.
Objective Part (75 Marks)
There will be 6 topics in this objective part of the paper which are English, General Knowledge, Pakistan Study, Islamic Studies, Urdu, and Mathematics. The
English (20 marks)
In the section on English synonyms, antonyms, and prepositions will be given. They can also give the fill-in-the-blanks to put the right form of the verb.
General Knowledge (20 marks)
In this section of the paper, 20 questions of simple general knowledge will be asked. Don't worry they will not ask the hard questions. Very simple and famous questions will come in the paper.
Islamic studies (10 marks)
The Islamic study paper is based on basic questions about Islam and Islamic knowledge. Because the minimum education of LAT is intermediate that's why they will not ask hard questions.
Pakistan Studies (10 marks)
Similar to the Islamic Study, the Pakistan Study paper is also very easy, and simple questions about Pakistan will be asked in the paper. There are 3 to 4 questions will be about the current affairs of Pakistan.
Urdu (10 marks)
The basic grammar of Urdu will be asked in the paper like the synonyms and antonyms in the English paper.
Mathematics (05 marks)
The question of a mathematics paper is very easy than any other paper. The question will be asked about the Ratio, Multiplication, etc. For example, if one man built a house in 30 days then how many days 12 men can build the same house? Another example is what is 20 percent of 100 or similar questions will be asked.
How to Prepare for LAT (Law Admission Test)
The best way to prepare is to buy a handbook that is specially made for LAT and which is available in the market. This is a simple and easy way to prepare for the LAT (Law Admission Test). But if you are eager about preparing and want to take good marks then along with this book you have to visit some of the websites, read a daily newspaper and you must talk with your friends and fellows. By doing this you can prepare well and will get marks on this test.
Before you get into the LL.B program you should check out the LL.B past papers and LAT past Papers so that you can have a better idea of the examination and paper pattern.
Download our Official LAT Preparation App Now. It's available in both offline and online versions.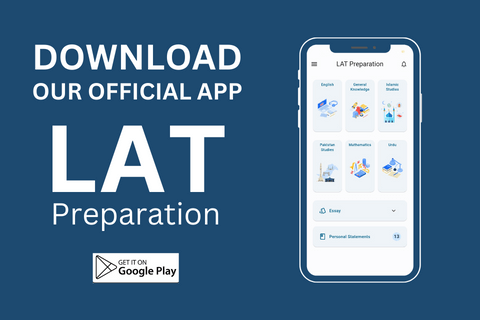 For a better and brief understanding, you can watch the following video:
Conclusion
To conclude the above discussion, I must say that LAT is a positive step to making this profession a strong and up-to-the-mark profession like many others. The Test is simple and easy you just have to give your 1 or 2 hours daily to prepare well for this test. Keep visiting the HEC website and daily newspaper for all the information regarding this Law Admission Test.
If you have any questions regarding the LAT, then you are free to ask in the comment section below. I hope this article will help you.
LAT Past Papers