LAT stands for Law Admission Test. It is now a compulsory test for taking admission to 5 years LL.B program. The next Law Admission Test (LAT) in 2023 will be held on 09th April 2023. Here you will learn the schedule of the next law admission test date, the last date to apply, and other relevant things about LAT.
Next LAT Advertisement
See below the LAT advertisement for the 2023 LAT exam. The last date is 27 March 2023.
How to Register for LAT
You can apply for LAT by visiting the HEC official Website. You should submit the LAT Exam fee of Rs. 1800 (fee increased as of March 2023) before applying online for this exam.
You can watch this video guide to apply for LAT:
Who Can Apply for LAT
The students who have just cleared their 12 years of education. Remember, the students who are waiting for their final results, are not allowed to apply for LAT.
There is no limit that which scheme of education you have studied. For example, Medical, Engineering, Fine Arts, etc. All the students who have completed their 12 years (HSSC) or equivalent education are eligible to apply for LAT.
You have to submit a challan of Rs. 1800/- in account number (1742 7900 133401, Account Title: Higher Education Commission: Habib Bank branch code: 1742) to any branch of Habib Bank Limited (HBL).
LAT Syllabus
The syllabus of LAT is given below:
Syllabus for Law Admission Test (LAT) 2023
Subjective (25 Marks)
In the subjective part of LAT, there will 2 questions.
Essay (in English or Urdu)
1. You have to write an Essay for 15 Marks either in the English language or in the Urdu Language. There will be three to four topics will be given and you have to write an essay on any one topic. No limit of words is there but it is better if you write your essay between 200 to 250 words.
Use simple and easy sentences and present your essay in a very polite and easy manner. Don't use heavy vocabulary in the essay paper. especially if the essay is on current affairs, then write simple words that you have listened to in the newspapers or read from any website. Please quote the reference of that incident or event.
Personal Statement
2. You have to write a Personal Statement of 10 marks. In the personal statement, you have to write what is your objective or motive behind doing LL.B. Write your reason in simple words why you want to become a lawyer. For example, if your parents want to see you as a Judge then simply write there that your parent wishes to see me as a Judge.
In this part, you can write multiple ideas about your career. But remember don't write more than 15 sentences in this part of the paper. The reason is the total marks are only 10 and you have no need to write so much content for 10 marks. Simply write your reason in 10 to 15 sentences and that will be Okay.
Note: One thing you must remember in this subjective part is, don't make grammar or spelling mistakes. Because the real purpose of this subjective part is to check the English of the students. In the field of Law, the use of the English language is more than Urdu.
Objective Part (75 Marks)
There will be 6 topics in this objective part of the paper which are English, General Knowledge, Pakistan Study, Islamic Studies, Urdu, and Mathematics. The
English (20 marks)
In the section on English synonyms, antonyms, and prepositions will be given. They can also give the fill-in-the-blanks to put the right form of the verb.
General Knowledge (20 marks)
In this section of the paper, 20 questions of simple general knowledge will be asked. Don't worry they will not ask the hard questions. Very simple and famous questions will come in the paper.
Islamic studies (10 marks)
The Islamic study paper is based on basic questions about Islam and Islamic knowledge. Because the minimum education of LAT is intermediate that's why they will not ask hard questions.
Pakistan Studies (10 marks)
Similar to the Islamic Study, the Pakistan Study paper is also very easy, and simple questions about Pakistan will be asked in the paper. There are 3 to 4 questions will be about the current affairs of Pakistan.
Urdu (10 marks)
The basic grammar of Urdu will be asked in the paper like the synonyms and antonyms in the English paper.
Mathematics (05 marks)
The question of a mathematics paper is very easy than any other paper. The question will be asked about the Ratio, Multiplication, etc. For example, if one man built a house in 30 days then how many days 12 men can build the same house? Another example is what is 20 percent of 100 or similar questions will be asked.
How to Prepare for Law Admission Test (LAT)
We have created a dedicated LAT Study and Preparation Mobile App for preparing for LAT Exam. In this app, we have given updated material for all the categories of the LAT exam. This app is being updated every 10 days and must before every LAT exam. So, if you are interested then download our app below. I hope this will help you with this exam.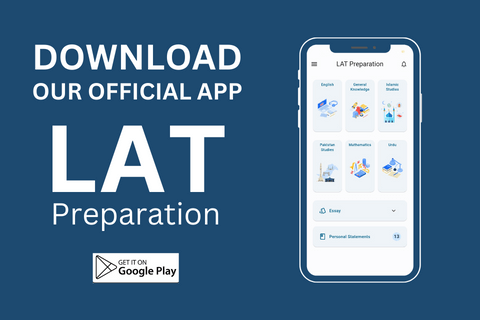 ➤

View LAT Past Paper
Conclusion
Now I hope you have completely understood about the next LAT exam date and other relevant things about this exam. Visit this page again to find fresh information about every coming LAT exam.