Here you will find the Civil Judge past paper 2022 on the subject of Civil Law and Criminal Law of Sindh High Court. This Civil Law paper is the 1st paper in the Civil Judge Cum Judicial Magistrate's competitive examination 2022 held by Sindh High Court, Karachi. Find below the Civil Judge Past Paper 2022 of Civil and Criminal Law.
Note: There are two parts. Attempt All Questions.
Part-I (Civil Law)
Q1. Discuss the ingredients for the grant of a temporary injunction under Order XXXIX Rules 1 and 2 CPC.
Or
Discuss any three provisions of the Limitations Act, 1908 under which a certain period of time can be excluded while computing limitation.
Q2. What agreements are contracts? Who are persons competent to contract? Are all contracts required to be in writing?
Or
Under what circumstances can it be said that a contract is not by free consent? Give Illustrations.
Q3. What are the grounds for the following:
Amendment of plaint?
Rejection of plaint?
Return of plaint?
Q4. Write short notes on the five (5) of the following:
Guardian of property of a Ward and limitation of his powers
The different facets of the jurisdiction of a civil court
Who is a lessee holding over?
Cases in which injunction cannot be granted
Contracts that are not specifically enforceable
What is a partnership at will, and how can it be dissolved?
Where a transferee is in possession of the immovable property in part performance of a contract, what are his rights?
Grounds for appointing a receiver
Part-II (Criminal Law)
Q5. Mr. A issues a cheque to Mr. B for the purchase of goods. On receiving the goods Mr. A contends that the goods are defective. He stops payment on the cheque and the same is dishonored. Mr. B lodges an FIR against Mr. A under section 489-F which is a non-bailable offense punishable by imprisonment which may extend to 3 years, with a fine, or both. Mr. A is arrested and he applied for bail under section 197 Cr. PC. Would you grant bail or deny bail? Give your reasons for either cease. The reasons need to be in the format of a court oroder.
Q6. What do you understand by the following? Write short notes on any five (5).
Cognizable and non-cognizable offense
Falsus in uno, falsus in omnibus
Please of alibi
chances witness
mitigating circumstances
rule of consistency in the context of bail
proclaimed offender
identification parade
Q7. Write short notes to distinguish between any five (5) of the following:
kidnapping and abduction
robbery and dacoity
theft and extortion
criminal breach of trust and cheating
daman and diyat
primary evidence and secondary evidence
conviction and sentence
judicial confession and extra-judicial confession
Q8. What are the contents of a charge? In what circumstances can an accused person be charged with and tried at one trial for more than one offense?
Or
What are the instances in which the Magistrate can record an order of acquittal?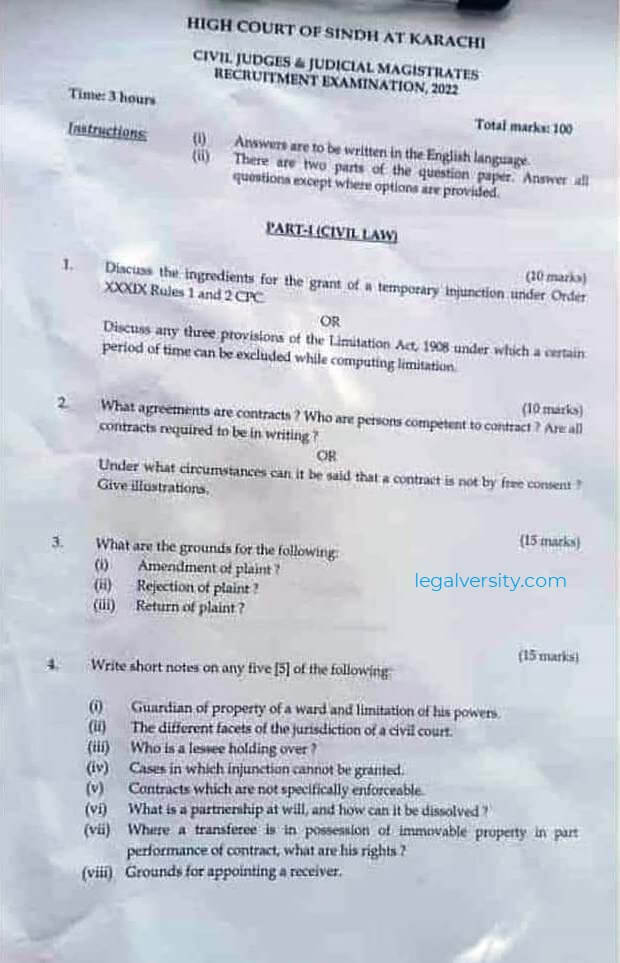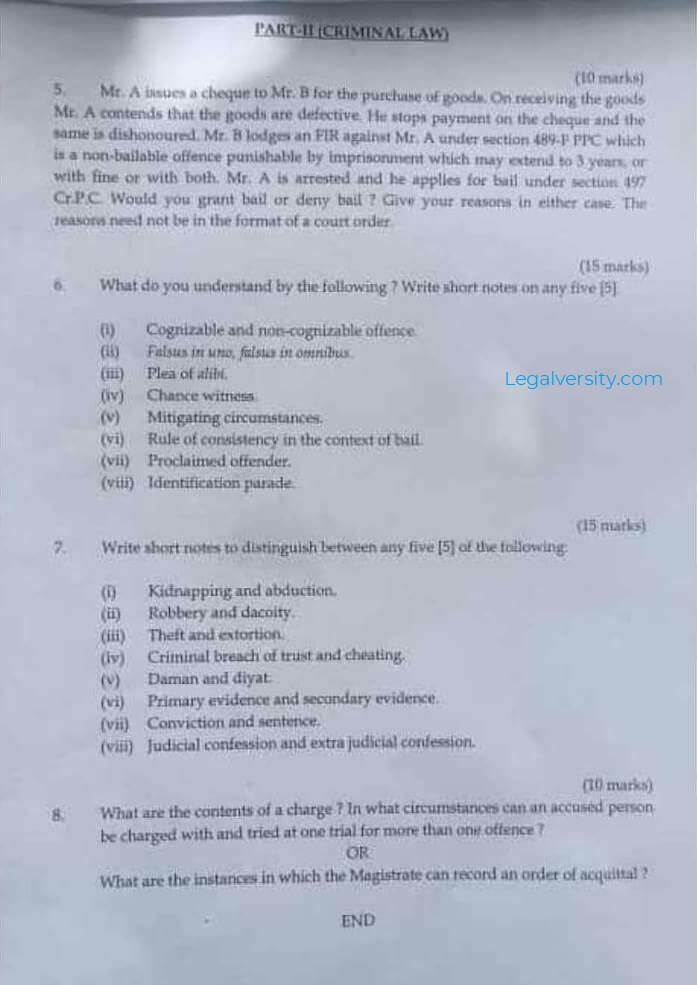 You may also like these:
Civil Judge Past Papers 2020
Other Useful Topics for Civil Judge
ASJ Past Papers 2020
For LL.B Past Papers