The government of Punjab amended the upper age limit for government jobs. The Age Relaxation Notification Punjab Government 2022 has been issued. The Punjab government has allowed a relaxation of up to 2 years in the upper age limit for all the candidates applying for jobs in the province of Punjab.
According to notification no. No.SOR-I(S&GAD)9-2/2022 dated 26th January 2022, the Punjab government increased the age limit to 2 years. The government made amendments through the power of Section 23 of the Punjab Civil Servants Act, 1974.
AMENDMENT: In the Punjab Civil Servants Recruitment (Relaxation of Upper Age Limit) Rules, 1976, after rule 3, the following shall be added:
"According to new section 3A, "Notwithstanding anything contained in these rules or anything contrary contained in any rules applicable to any post or service, two years of general age relaxation, in addition to age relaxation admissible under these rules or any other rules, shall be admissible in respect of all the posts including those to be filled through the Punjab Public Service Commission and Combined Competitive Examinations: Provided that this age relaxation shall not be available for the recruitment of posts in Police Force: Provided further that this age relaxation shall be admissible for the recruitment of posts with effect from 1st January 2022 till 31st December 2022."
According to the amendment, this upper age limit of 02 years shall not be effective for the appointment in the Police forces. This new policy is applicable from 01st January 2022 till 31st  December 2022.
See the Amendment notification of Punjab Civil Servants Recruitment (Relaxation of Upper Age Limit) Rules, 197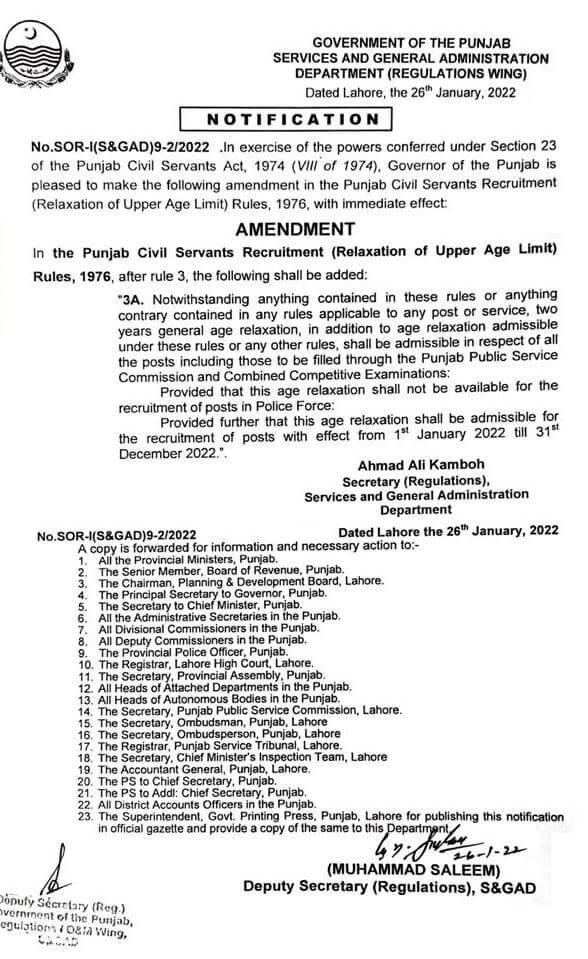 You may also like these: