The government of Punjab revises the rates for daily allowance, travelling and mileage allowance. Government of the Punjab, Finance Department issued a Notification on 17th October 2023 in connection with Revised Rates for Daily Allowance, Travelling and Mileage Allowance 2023. These new TA/DA Rates in Punjab are effective with effect from 1st July 2023. The details are as under:
Revised TA/DA Rates Punjab 2023
In continuation of this department's letter bearing number FD Sr. -1-9-/2010 dated 1st January 2013 and number FD-SR-1/ 8-2/2015 dated 18th July 2017. The competent authority is pleased to revise the existing dates of daily allowances admissible to government officers and other officials. the rates are imposed on official duty within the country and traveling and mileage allowance with effect from the first of July 2023. It is to be here that the Finance Division Govt of Pakistan has already issued the Notification of Revised Daily Allowance 2023 Federal on 8th Oct 2023.
Detail of Current Existing Rates and New Revised Rates (TA/DA)
Existing Rates
Revised Rates
Basic Pay Scale
Ordinary Rates
SPECIAL Rates
Ordinary Rates
Special Rates
BPS-01 to BPS-04
Rs.496
Rs.800
Rs.744
Rs.
BPS-05 to BPS-11
Rs.112
Rs.1440
Rs.1680
Rs.2160
BPS-12 to BPS-16
Rs.2000
Rs.2560
Rs.3000
Rs.3840
BPS-17 to BPS-18
Rs.2480
Rs.3280
Rs.3720
Rs.4920
BPS-19 to BPS-20
Rs.2800
Rs.4000
Rs.4200
Rs.6000
BPS-21
Rs.2800
Rs.4800
Rs.4200
Rs.7200
New and Revised TA/DA rates for Punjab employees in 2023.
Rates of Travelling and Mileage Allowance
The revised rates of traveling and mileage allowance 2023 for Punjab are as under:
| | | |
| --- | --- | --- |
| Title of Allowance | Existing Rates | Revised Rates |
| Transportation 1. Motor Car2. Motor Cycle /Scooter | Rs.05/- per KMRs.2.50/- Per KM | Rs.07/-per KMRs.3.75/- Per KM |
| | | |
| --- | --- | --- |
| Mileage Allowance 1.      Personal Car/Taxi2.      Motor Cycle /Scooter3.      Bicycle4.      Public Transport | Rs.10/-per KMRs.04/- per KMRs02/- per KMRs.2.50/- per KM | Rs.15/- Per KmRs.06/- per KMRs.03/- per KMRs.3.75/- per KM |
| Traveling Through Air | Admissible to Government Servants in BPS-17 and above | Rs.0.03 Per KG Per KM |
Special Stations for Special Rates
Specified stations for special rates notified from time to time are Hyderabad Islamabad Karachi Lahore Faisalabad, Multan, Peshawar,  Quetta,  Rawalpindi,  Muzaffarabad, Mirpur,  Azad Jammu And Kashmir,  Sukkur,  Bahawalpur,  DG Khan,  Sargodha  Sialkot, Gujarat Calamari, and northern areas.
Daily Allowance is admissible only for actual nights at the outstation. for which daily allowances are claimed. Otherwise, the night stop is not involved but if absence from headquarters exceeds 4 hours, half daily allowance will be allowed. The enhanced states are not applied where 20 days or 15 days or any other fixed dailies for days as fixed dailies Allowance is being paid with the salary.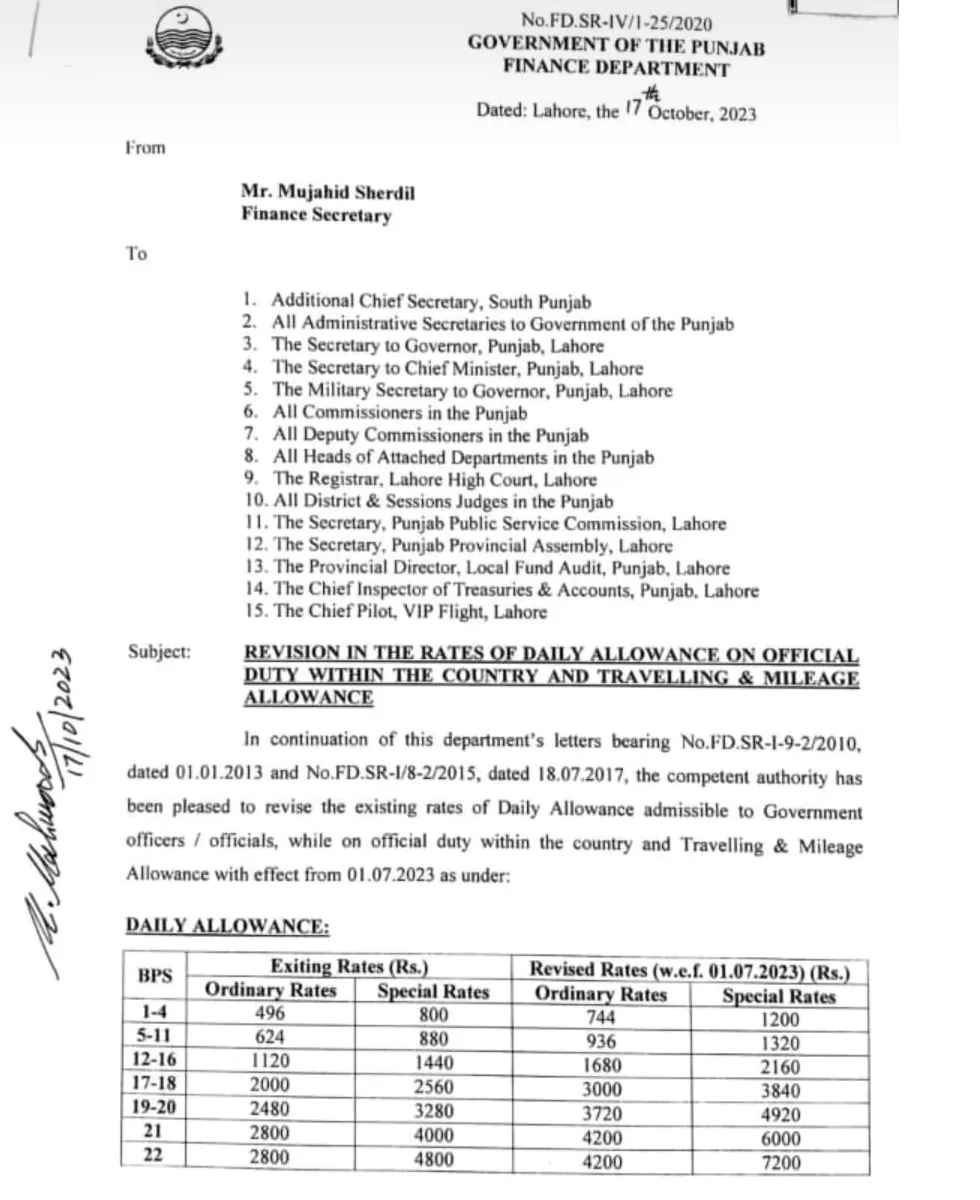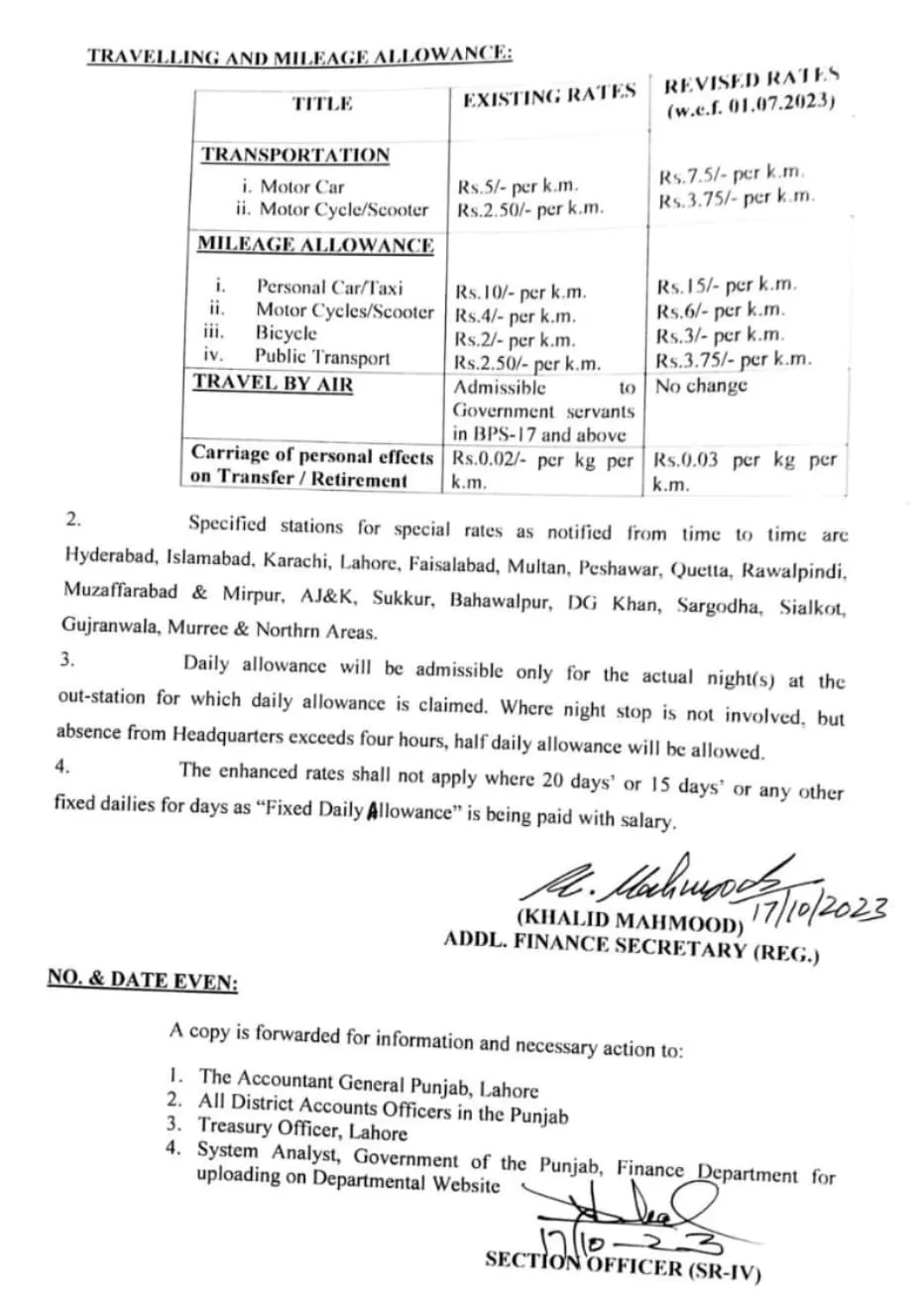 Also Read: