Law Admission Test (LAT) Personal Statement is a very important statement in the paper of LAT conducted by the Higher Education Commission (HEC). Law Admission Test (LAT) Personal Statement is an overview of your own ideas. Personal Statement can have many uses, its purpose is always based around selling yourself to the reader. Not only do you have to summarize your life, education, skills, and experience, you also have to make sure it's relevant to what you are applying for. In LAT the personal statement is of 10 Marks and you must write it in simple and easy words.
Here, I have arranged some examples of "LAT Personal Statement" that you can use in your paper. You can learn more about applying, preparation of LAT examination by clicking here. You can also access the LAT Study Material on this page.
But before jumping into this you must keep in mind these following things:
your personal statement must be around 100-150 words
a personal statement must include your little profile (who are you? you education, career goals)
your personal statement can be written in any person or tense as long as you maintain consistency throughout
Example of Personal Statement
Below I have given 5 simple and easy examples of personal statements that you can write in your LAT paper.
Personal Statement As a Student
I started as a student at College and want to take admission in LLB five year programme. I got my education from 6th class to 10th from Sahiwal District. I passed my matriculation examination from Pilot Secondary school of Science Sahiwal. Then I got admission to Government College Sahiwal where I passed the F.A examination with the first division.
Personal Statement As a Hard Worker
I used to a hard-working honest individual. I am a good timekeeper, always willing to learn new skills. I am a friendly, most helpful and polite individual. I have a good sense of humor. I am able to work independently in busy environments and also within a team setting. I am outgoing and tactful, and able to listen effectively when solving problems.
Personal Statement As a Punctual and Motivated Person
I am a punctual and motivated individual who is able to work in a busy environment and produce high standards of work. I am an excellent team worker and am able to take instruction from all levels and build up good working relationships with all colleagues. I am flexible, reliable and possess excellent time keeping skills.
Personal Statement As an Enthusiastic and Responsible Person
Being an enthusiastic, self-motivated, reliable, responsible and hard-working person. I am a mature team worker and adaptable to all challenging situations. I am able to work well both in a team environment as well as using own initiative. I am able to work well under pressure and adhere to strict deadlines.
Personal Statement As a Dedicated, Organized and Logical Person
I am being a logical, dedicated and organized individual. I have good interpersonal skills. I am an excellent team worker and am keen and very willing to learn and develop new skills. I am reliable and dependable and often seek new responsibilities within a wide range of employment areas. I have an active and dynamic approach to work and getting things done. I am determined and decisive. I identify and develop opportunities.
Some Important points in LAT Personal Statement
The Following are the other important lines that you can include in your LAT personal statement.
organised and efficient person with an enquiring mind
a good listener and learner, and am able to communicate well with people from all walks of life
good at working using my own initiatives and I am flexible in my approach to work duties
a quick learner and willing to adapt to any job
able to motivate and direct my talents and skills to meet objectives in time
always seek to achieve a high standard in whatever work I undertake
a family person with responsibilities, very reliable and trustworthy
mature person with a sound engineering background
Download our Official LAT Preparation App Now. Its available in both offline and online versions.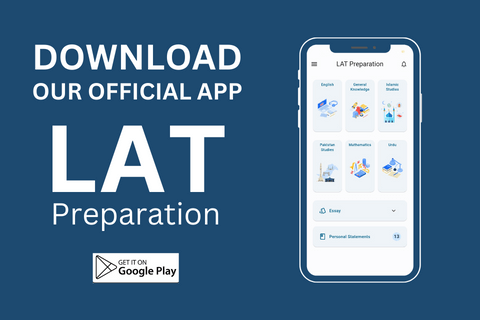 Conclusion
To conclude what we have discussed above is that you must write your LAT personal statement in very easy and simple sentences. Choose words that really shows your character and objects in life. Make sure you do not try to fool the examiner. Just write what you have in your mind cleanly. You should not use heavy or tough vocabulary. I hope this will help you a lot.
Now if you have any question regarding LAT Personal Statement you can ask at our question and answer portal QA.legalversity.com or leave a comment below this article. Your feedback is highly appreciable.i
You also like these topics: