Law Admission Test (LAT) English Essays topics are important for the LAT examination. LAT is an important paper for taking admission in a 5-year LL.B programme. It is a compulsory examination for taking admission. There is a topic of 15 Marks in the LAT paper in which you have to write an essay (in English or Urdu). So in the article, you will find the Law Admission Test (LAT) English Essay Topics. There are many Law Admission Test (LAT) English Essay Topics available here.
you can also view or learn more about the LAT paper pattern, method to apply and study material like Personal Statement, and Urdu Essay Topics here.
You should write an English Essay in a very humble and polite language. No need to write hard and fast vocabulary. As the LAT examination is an intermediate base examination so the topics of the Essay will also be easy and short. So we have collected the most famous topics or English Essays for the LAT examination. The detail of all the English Essay topics is given below:
These are some of the most famous English essay topics for the LAT examination. We will update these English essays with new topics every now and then. You are required to visit this page, again and again, to stay updated.
Download our official LAT Preparation App from Play store. its available in both offline and online versions.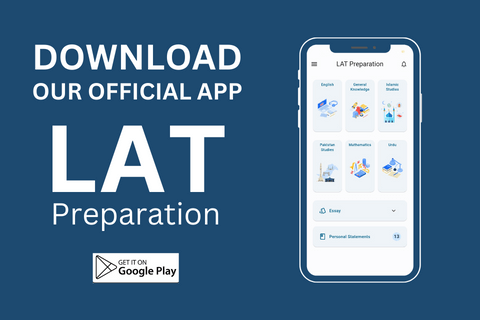 Now you have any other questions regarding the LAT examination you can submit them in the comment section.