The Finance department of the government of Punjab issued a notification regarding the Up-Gradation of Computer Personnel to computer programmer in Punjab. The committee has examined the case referred by the Punjab Agriculture department regarding computer personnel up-gradation to a computer programmer vide its letter no. FD.PC. 40-43/2017 (1259/20) dated 16.11.2022.
Finance Department observe that due to an amendment in Service Rules on 29.06.2010, the incumbents in the post of Computer Operator ceased to be entitled to promotion against the post of Computer Programmer.
Furthermore, they did not avail any benefits of promotion on the basis of the previous service rules 2003, wherein, promotion was available for them against the post of Computer Programmer.
Summary of this Notification
Hence, they are entitled to Time Scale Persona Up-gradation (TSPU) as Senior Computer Operator (BS-16) and Programmer (BS-17) on completion of 8 and 16 years of regular service respectively.
This rule is with reference to the Finance department's notification No. FD.PC 40-43/2017(E) dated 14.12.2018 read with clarification No. FD.PC.40-43/2017 dated 24.04.2019.
View the latest notification of Computer Personnel up-gradation here: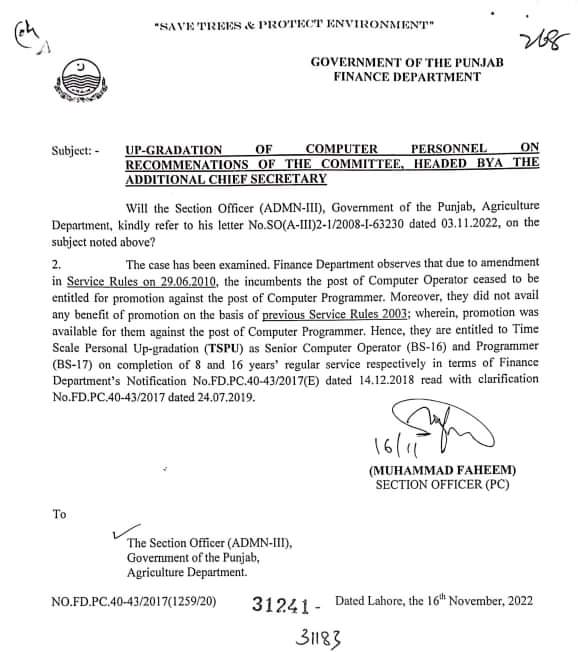 You may also like: