The Punjab school education department has finally issued the Notification of Implementation of Single National Curriculum (SNC) 2021. According to this notification, the Curriculum of Class-I to Class-V will be the same. The students will study the same books whether they are in private English Medium schools or in government schools.  The Punjab School Education Department issue this Single National Curriculum notification on 29th July 2021. The details are given below:
I am directed to enclose herewith a copy of Notification No M-49. 02/PCTB/2021 dated 01-01-2021 by the PCTB regarding implementation of Single National Curriculum (SNC) for Grades Pre I-V in all streams of education (public & private schools and Deeni Madaris) for the forthcoming academic session 2021-22 and onward.
It is reiterated that the above-mentioned notification of PCTB for SNC may be complied with for the upcoming sessions 2020-21 and onward.
This is a really vital step taken by the government in the educational field. After implementing this SNC for Grades I-V the next step would be to spread this SNC to Grade 9th and 10th.
You can view or download the SNC Notification here.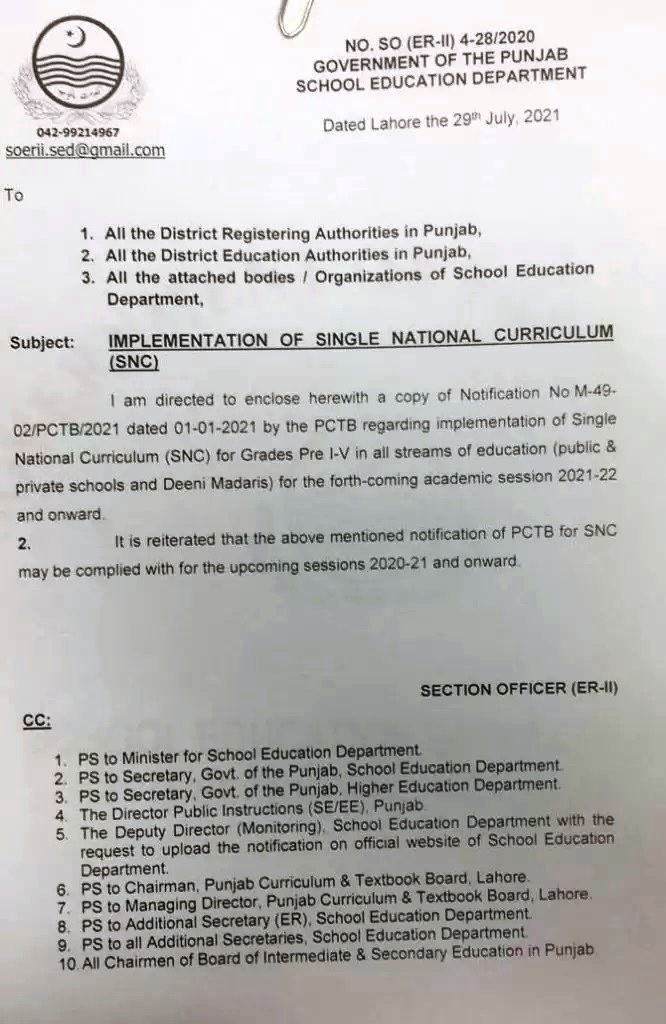 You may also like these: