Here you will know about the Notification for Grant of Time Scale BPS-1 to BPS-16 of Federal Government. The Finance Division of the Government of Pakistan has issued an Office Memorandum regarding the policy of time scale to civil servants of the Federal Government. This is a clarification of the previous letter in connection to the time scale policy of BPS-1 to BPS-16. According to the latest notification for the time scale the finance acknowledges that:
The undersigned is directed to refer to M/o No. 4/33/D-22/2022, dated 30-08-2022 on the subject noted above and to say that this Division's O.M dated 28-05-2022 is clear and as per Sr.No. "o".
This office memorandum also explained the irrevocable options for BPS-1 to BPS-4 especially Drivers/Dispatch Riders and Superintendent's health personnel.
Irrevocable Options for BPS-1 to BPS-4
According to this office memorandum issued on September 12, 2022, a civil servant who is already availing of this time scale policy, or is moved up to a higher rank, then he must give his irrevocable (not to be changed) option regarding availing of this new policy or continue to wit the old policy.
Irrevocable Options for Trained Graduate Teachers
In the case of Trained Graduates Teachers, they can opt new time scale policy if they want to. But for that reason, they will also give irrevocable options. Their period of requisite length of service will commence from the date of giving this irrevocable option. When they give this option, and after completing 10 years in service they will be entitled to the first time scale.
In simple words, their service officially will start from the date they provide the option certificates.
Conclusion
Federal Government has allowed the Time Scale Promotion Policy for the Federal Government employees of BPS-01 to BPS-16. But there were some technical issues which include the move up of employees, upgradation, and some others for those employees who are already availing.
So, now the employees of this kind have to give the irrevocable option of whether they will adopt their existing time scale policy or a new one. Various departments have already asked the employees to provide the irrevocable option certificates.
Government has to make the procedure simple as many employees are unaware of the benefits of the new and old Time Scale Promotion.
See the time scale office memorandum 2022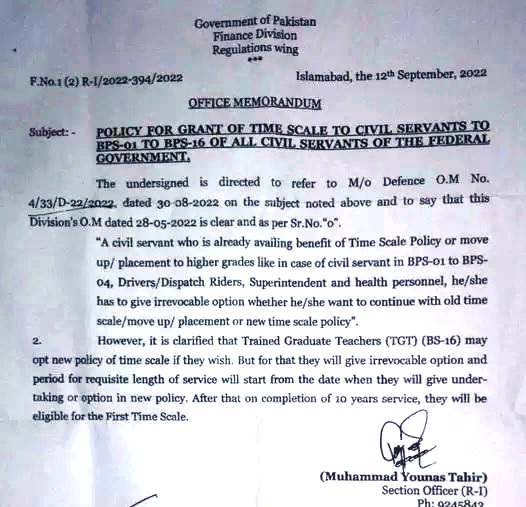 Read released posts: