On January 23, 2023, the Finance Department of the Punjab Government issued a notification regarding the eligibility of the Conveyance Allowance for Maternity Leave in accordance with the Punjab Leave Rules 1981. The specifics are as follows:
Clarification Regarding Conveyance Allowance Eligibility during Maternity Leave
According to the notification:
In light of Rule 13(6) of the revised Punjab Leave Rules, 1981, and Rule 1.15(2) of the Punjab Travelling Allowance Rules, I am directed to refer to your application dated 10.12.2022 on the aforementioned subject and to inform you that Conveyance Allowance is not admissible during maternity leave (copy enclosed).
What is a Maternity Leave
A female civil servant may be granted maternity leave on full pay outside of the leave account for up to ninety days from the date of its beginning (as specified in the application for leave) or forty-five days from the date of her birth, whichever comes first.
In accordance with the government's current instructions, leave salary requirements for maternity leave will be the same as for other types of leave.
Allowance for conveyance during vacation or joining time
(1) Only for the time that the required conveyance is actually maintained on a certificate provided by the officer in question proving that this requirement has in fact been met may a conveyance allowance under rule 1.14(i) be claimed.
If the vehicle in question is an animal or a vehicle driven by animals, this conveyance allowance can be used during leave or joining time at full rates, while it can be used for any other vehicle at held rates.
Providing that the civil servant had the allowance in the position they held immediately prior to their leave or joining time:
In addition, the conveyance must actually be maintained by the employee during the leave or joining time, whichever comes first.
(2) In accordance with Rule 1.14(ii), conveyance allowance will only be admissible for the time that it is attached; it will not be admissible during leave or joining time.
Download Complete Notification.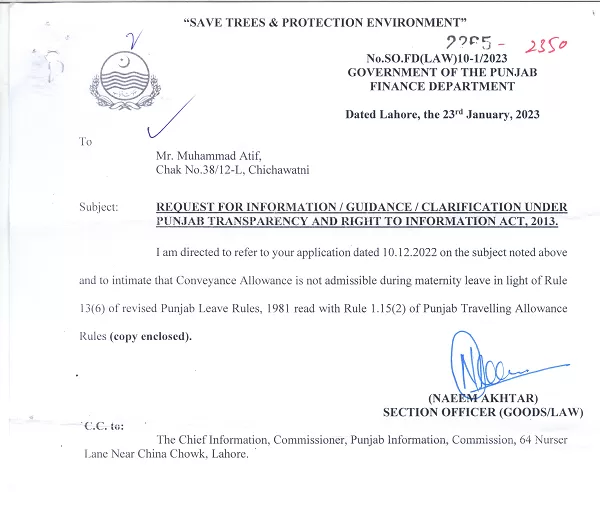 Also Read: