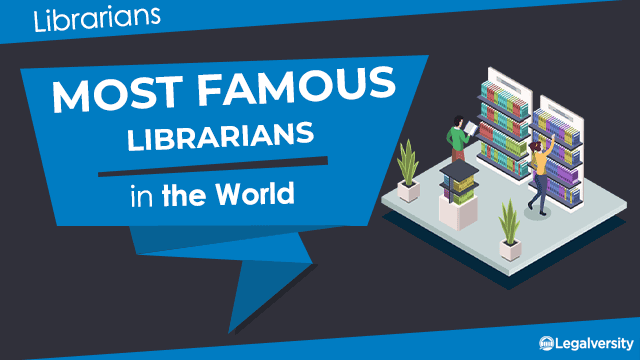 There are many people in the library and information sciences who have inspired us. In this article, you will learn about the most famous librarians in the world.  These people are famous for their efforts in keeping up the standard of Library science. So find below the most notable librarian in the world.
Ben Franklin
Ben Franklin didn't sit behind a circulation desk and help college kids find research materials. but he is still a legitimate librarian. In 1731, Franklin and his philosophy group Junto organized the -"Articles of Agreement," which set up the nation's first library. Their library. called The Library Company, was first meant to benefit only the members of Junto. so that they could share books on the unities they discussed during meetings. It was organized as a subscription library, and members of Junto paid a small fee to retrieve books. Franklin was actually the second librarian. and the Company grew to include more books than most university libraries at the time, plus, artifacts like coins and fossils. Overtime. The Library Company granted access to members of the Second Continental Congress, the Constitutional Convention, and others.
Melvil Dewey
Founder of the Dewey Decimal System, Melvil Dewey was born in New York in 1851. While a student at Amherst College. he worked in the school library to support his living expenses and stayed on as a librarian after graduation. After experimenting with different cataloging and organization methods for library collections, Amherst College published his work A Classification and Subject Index for Cataloguing and Arranging the Books and Pamphlets of a Library. Dewey has been named the "Father of Modem Librarianship" and even helped created the American Library Association in 1876.
Eratosthenes
The Greek scholar Eratosthenes discovered the system of latitude and longitude and made significant contributions to astronomy. Eratosthenes was also the chief librarian of the Great Library of Alexandria.
Saint Lawrence
As one of the patron saints of librarians, Saint Lawrence, or Lawrence of Rome, was a Catholic deacon who was killed by the Romans in 258 for refusing, to tam over the collection of Christian treasures and documents he was entrusted with to be protected.
Mao Zedong
Mao Zedong, the man responsible for uniting China during the 1940s and 58 when he organized the People's Republic of China, was a librarian. In 1916, Mao toed in Peking China as a young man, he was an assistant librarian at Peking University. The chief librarian at Peking University was a Marxist and succeeded in convening Mao to communism.
Seyd Mohammad Khataml
Syed Mohammad Khatami was the fifth president of has and a former has Minister of Culture. He is also a former head of the National Library and Archives Organisation of Iran. He is considered to be a reformist in Iranian culture and politics, supporting freedom of expression and foreign diplomacy.
Golda Meir
Golda Meir was the fourth prime minister of Israel, from 1969 to 1974. She was also one of the twenty-four who signed the Israeli declaration of independence in 1948; an ambassador to the Soviet Union; Minister of Labour from 1949-1956, and the inspiration for the Broadway play Golda, which starred Antic Bancroft. Before her distinguished political career, however, Golda Meir worked as a librarian.
J. Edgar Hoover
As the legendary director of the FBI, J. Edgar Hoover led domestic investigations from 1924 to 1972, as head of the Bureau of Investigation and when he founded the FBI in 1935. In his early life, however, Hoover went to night school at George Washington University and supported himself by working at the Library of Congress. There, he was a messenger, cataloguer, and clerk. In 1919, Hoover left the Library of Congress and worked as a special assistant to the Attorney General.
John J. Beckley
John J. Beckley is recognized as being the first political campaign manager in the U.S. He was also the first Librarian of the United States Congress, serving from 1802 to 1807. In 1789, he was sponsored by James Madison to be, the Clerk of the House and supported the new Republic party in 1792, backed by Thomas Jefferson and James Madison.
Giacomo Casanova
The infamous spy, writer, diplomat, and lover Casanova was born in Venice during the first half of the 18th century. Although he studied to become a priest at the University of Padua and the seminary of St. Cypria, Casanova is well-known for being a drinker and for having scandalous love affairs with numerous women. Later in life, he worked as a librarian for the Count of Waldstein in Dux, Bohemia.
Pope Pius XI, or Achille Ratti:
Pope Pius XI served from 1929 to 1939, during which time he established the feast of Christ the King and spoke out against social justice crimes and unethical financial corruption practices. Before he became pope, Ratti was a librarian and scholar, and at the Vatican, Pope Pius XI famously reorganized the archives.
Scholars, Artists, and Philosophers
David Hume
Scotsman David Hume contributed greatly to 18th-century philosophy and economics, writing important works like Dialogues Concerning Natural Religion and A Treatise on Human Nature. He was an anti-Mercantilist, and according to The New School, Hume "was also one of the better articulators of the Quantity Theory and the neutrality of money." In 1752, Hume became a librarian at the Advocate's Library in Edinburgh, where he wrote his famous History of England.
Marcel Duchamp
Marcel Duchamp is considered to be one of the most significant and influential modem artists of the Dadaist and Surrealist movements. Duchamp was born in the Haute-Normandie region in France, where he took drawing and painting classes as a child. In the early 1900s, Duchamp experimented with Cubism, nude works, and was active in the intellectual and artistic groups influencing the newest culture and trends in Paris at the time. Around 1912, Duchamp became tired of painting and worked as a librarian at the Bibliotheque Sainte-Genevieve, during which he devoted his time to math and physics experiments.
Lewis Carroll
The author of Alice's Adventures in Wonderland and Through the Looking Glass, Lewis Carroll's real name was Charles Lutwidge Dodgson. Dodgson grew up in Cheshire and Yorkshire, England, and after graduating from Oxford with a B.A. in mathematics, he became a sub-librarian at Christ Church there. He left that position in 1857 to become a Mathematical Lecturer. Dodgson first told the story of Alice Adventures in Wonderland to the three daughters of the Dean of Christ Church, in 1862. The book was published three years later and continues to be a popular and significant work of fiction today.
Beverly Cleary
Popular children's book author Beverly Cleary wrote the Ramona Quimby books and Henry Higgins books and has received three Newbery Medals. But before she became a celebrated author, Beverly grew up in a tiny town in Oregon, where her mother asked the State Library to send books to their farm. During the Depression, Beverly went to junior college in California and later attended the University of California at Berkeley. She then attended the School of Librarianship at the University of Washington, Seattle, and became a children's librarian.
Laura Bush
Former First Lady Laura Bush earned ht,r Master's degree in Library Science from the University of Texas at Austin after working as an elementary school teacher. As the First Lady of Texas, she supported George W. Bush's campaigns and started her own public projects regarding education and literacy. When George W. Bush became President of the United States, Laura supported librarian recruitment initiatives and toured many libraries around the world.
Madeleine L'Engle
American author Madeleine L'Engle's A Wrinkle in Time is soi a popular book among junior high students and almost like a rite of passage for young fiction readers. She has won multiple Newbery Medals and other awards, but later in life. she served as the librarian and writer¬in-residence at the Cathedral of St. John the Divine in New York City.
Marcel Proust
At once one of the most celebrated and obscure novelists and critics of all time, Marcel Proust once decided to go to school to become a librarian. The French writer was born in 1871, and his most famous work, In Search of Lost Time, is still studied today.
Jorge Luis Borges
Jorge Luis Borges is an Argentine writer who made significant contributions to fantasy literature in the 20th century. He shared the International Publishers' Forrnentor Prize with Samuel Beckett and was a municipal librarian from 1939 to 1946 in Argentina, before getting fired by the Peron regime. One of his most famous short stories, "The Library of Babel," depicts the universe as a huge library.
Joanna Cole
Joanna Cole's The Magic School Bus series has served to educate and entertain elementary-aged children about the human body, space, and more. She has also worked as a librarian, a schoolteacher, book editor, and writer/producer of the BBC children's TV show Bad.
Jacob Grimm
Grimms' Fairy Tales was first published in 1 8 12, but the stories, including "Hansel and Gretel," "Cinderella," and "Snow White," are still classic children's stories constantly reinvented as plays, Disney movies, and more. Jacob Grimm worked as a librarian in Easel, after graduating with a law degree. During this time, Jacob and his brother Wilhelm collected German folk talcs from ordinary citizens in hopes of uniting area kingdoms on the basis of sharing a similar culture.
Philip Larkin
English poet Philip Larkin was born in 1922 in Coventry. It began publishing poems in 1940 and was even offered the Poet Laureateship of England after the death of Sir John Betjeman, but he declined. Besides writing pasty and novels, Laths worked as an assistant librarian at the University College of Leicester, a librarian at the University of Hull, and was elected to the Board of the British Library in 1984, the same year he received an honorary D.Litt. from Oxford.
Stanley Kunitz
Stanley Kunitz is a celebrated American poet who was named the United States Poet Laureate in 2000. He has also been awarded a Guggenheim Foundation fellowship, the Levinson Prize, the National Medal of the Arts, and more. Before being named the U.S. Poet Laureate, Kunitz was a Consultant in Poetry at the Library of Congress from 1974-1976.
Jessamyn West
Jessamyn West is taking information science into the future with her website, librarian.net. Besides creating the Library 2.0 and "cool librarian" site, West served on the American Library Association Council and strongly promotes freedom of speech and expression.
Nancy Pearl
Nancy Pearl is kind of like a celebrity librarian. She has an action figure and travels around the country giving lectures and spreading the good news of books. She started the trend of city-wide book clubs when she organized the "If All of Seattle Read the Same Book," program in 1998. She also has a Women's National Book Association Award, served as Executive Director of the Washington Center for the Book, and wrote an immensely popular, best-selling book called Book Lust.
These are the world's most famous librarians.
You can attempt Library Science MCQs Tests, different types of libraries in the world, and also you can view other most notable stuff for Library Science.
Other things you may like: