In this article, you'll find the 300 Most Important Questions about Law GAT. Law GAT is a compulsory examination now to enroll as an advocate in the District Bar Associations of Pakistan. The Higher Education Commission (HEC) made it compulsory to be successful before becoming an advocate. So, if you are doing LL.B now for becoming a future advocate then you have to pass the LAW GAT examination as well.
So, here we have arranged a big collection of LAW GAT important questions taken from the past papers of LAW GAT. We have arranged them in MCQs format so that you should attempt them easily. This practice is important for you so that you can easily tackle all the questions in the examination hall as well.
To Prepare for Law GAT exam download our Law GAT Preparation App now: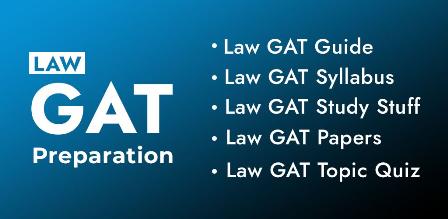 These LAW GAT question will cover the following topics:
Constitution
Jurisprudence
Civil Law (CPC)
Criminal Law (P.P.C) (Cr. PC)
Law of Evidence (Qanoon-e-Shahadat)
International Law
Professional Ethics
These are the topics that are given in the LAW GAT examination. So, we have collected all the related and most feasible questions that could come in your next LAW GAT examination.
You can download these Important Question in PDF for Free. Just click the below button to download.
➥

Download

300 Most Important Questions of LAW GAT
View other papers of LAW GAT:
Related to LAT
---