9New Update: 15 September 2022 – HEC announced Law GAT 2022. The online registration for LAW GAT 2022 has started now. Law GAT is a necessary test to enroll as an Advocate with Bar Council. Here you can download New Syllabus for the LAW GAT Test for the 03 October test. You will also know about the Eligibility, paper pattern, registration process, and past papers for Law GAT 2022.
How to Register for GAT
To register for LAW GAT you have to log in on the HEC official Website.  If you find any difficulty during the registration process then you should contact etc@hec.gov.pk or visit your nearest HEC office.  Your application will consist of two steps:
Profile Completion using the "My Profile" section on the same HEC website
And application submission using the "Law GAT Test" link or menu panel in the left-hand sidebar of the online portal.
application submission comprises two steps: profile completion using the "My Profile" section, and application submission using the "Law GAT Test" link on the menu panel in the left-hand sidebar of the online portal.
Only SUBMITTED applications will be considered for LAW-GAT Test and applications in SAVE or
The INCOMPLETE mode will not be entertained.
A test fee of Rs. 3000/- is to be deposited Online/ATM in Account No. 01127900567403
Account Title: Higher Education Commission,
Bank: Habib Bank Limited, Branch Code: 0112.
Bank draft/ Pay Orders will not be accepted
Applicants are required to submit the original fee deposit slip/ATM/online transfer through courier at Room No. 13-207,2nd Floor, HRD Building, HEC, H-8, Islamabad on or before the last date of registration.
Please mention your CNIC number on the backside of the deposit slip.
The examination is non-transferable and non-refundable.
HEC will consider only online submitted applications. Must see the advertisement for any new changes.
To Prepare for Law GAT exam download our Law GAT Preparation App now: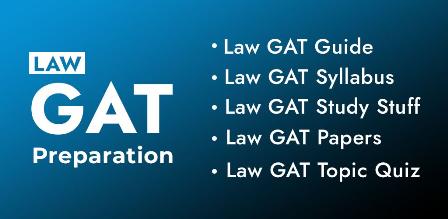 Eligibility for Law GAT
All the candidates who have acquired a bachelor's degree in law from a university recognized by HEC and Pakistan Bar Council are eligible to apply.
Candidates are required to submit an LL.B degree with copies of detailed transcript/marks certificates of the 1st, 2nd, and 3rd years LL.B examination. In case of LL.B degree has not been issued the candidate may submit a detailed transcript marks certificate of the LL.B (final year) examination.
Candidates have a maximum of three chances to clear the test, NTS™ conducts the test thrice a year.
Students awaiting results are not eligible to apply.
A 50% score is required to qualify for the assessment test.
Candidates will have to meet other criteria, if any, as per the rules and regulations of the Pakistan Bar Council.
Syllabus for Law GAT 2022
Law GAT 2022 will be held as per the following syllabus:
The Syllabus of the Law Graduate Assessment Test (LAW -GAT)
Sr. No
Title
 
Percentage
1
Constitutional History of Pakistan (Cases)

i. Maulvi Tamiz-ud-Din Khan Vs. Governor General of Pakistan (PLD 1955 F.C. 240)

ii. The State vs. Dooso and Other (PLD 1958 S.C 533)

iii. Miss Asma Jilani vs Government of Pakistan (PLD 1972 S.C 139)

iv. Begum Nusrat Bhutto Vs. Chief of Army Staff (PLD 1977 S.C 657)

v. Muhammad Nawaz Sharif Vs. President of Pakistan (PLD 1993 S.C 473)

vi. Al-Jehad Trust vs Federation of Pakistan (Judges Case (PLD 1996 S.C 324)

vii. Zafar Ali Shah and Others vs. General Pervez Musharraf, Chief Executive of Pakistan (PLD 2000 S.C 869)

viii. Khan Asfandyar wali and others vs. Federation of Pakistan (PLD 2001 S.C 607) Constitutional History of Pakistan 1973 Constitution of Pakistan

05

20



2) Constitution of Pakistan 1973

Fundamental Rights i.e., From Preamble to articles 40; Parliament i.e., Articles 50-89; the Judicature, i.e., Articles 175-212)

10

3) Internationa Law

i. United Nation Charter

ii. Internationa Corut of Justice

05

2
Jurisprudence:

English: (Jurisprudence by Sir John Salmond for LLB Student)

Islamic: (Islamic Jurisprudence by Prof Imran Ahsan Khan Nyazee)

05+05
10
3
Civil Procedure Code

CPC (from the preamble to 12, 15-20, 47, 75, 96, 104, 115, 151.

Orders 1, 6-9, 39, 41, 43)

20
20
4
Criminal Law1) PPC

i. Chapter 2 (General Explanations/Definitions).
ii. Chapter 4 (General Exception)
iii. Chapter 16 (Offences Affecting the Human Body).
iv. Chapter 16-A (Wrongful restraint & Wrongful Confinement).
v. Chapter 17 (Offences against Property).

10
20
2) Cr. P.C 

i. Chapter 1 (Preliminary Definitions).

ii. Chapter 5 (Arrest, Escape, and Retaking).
iii. Chapter 7 (Processes to compel the production of documents & other moveable property, and for the discovery of persons wrongfully confined).
iv. Chapter 8 (Security for keeping the peace and for good behavior).
v. Chapter 10 (Public Nuisance)
vi. Chapter 11 (Temporary orders in urgent cases of nuisance and apprehended danger).
vii. Chapter 14 (Information to the police and their powers to investigate-FIR).
viii. Chapter 16 (Complaints to the magistrate).
ix. Chapter 17 (The commencement of proceedings before the court).
x. Chapter 31 (of Appeals)
xi. Chapter 39 (of Bail)

10
5
Law of Evidence

i. Qanoon-e-Shahadat Order, 1984 Principles

20
20
6
Professional Ethics

Canons of Professional conducts and Etiquette of Advocates

Ch 12 (Rule 134- 175 B) Pakistan Legal Practitioners & Bar
Councils Rules, 1976.

10
10
Total
100
100
Law GAT Preparation Material
For preparing for LAW GAT we have arranged some Important Papers of LAW. You should attempt these papers before appearing in the LAW GAT  examination. View LAW GAT Past papers by clicking here. You can also view them separately here.
LAW GAT Past Paper:
LAW-GAT Test Centers
HEC Law GAT 2022 will be held in the following cities:
Islamabad
Lahore
Karachi
Sukkur
Abbottabad
Quetta
Multan
Hyderabad
Turbat
Bahawalpur
Peshawar
Muzaffarabad
Faisalabad
Gilgit
Law GAT Result 2022
The Final Result of the Law Graduate Assessment Test will be available on the HEC online portal.
Conclusion
To conclude I can say that Law GAT is a remarkable step by the HEC and PBC to reshape this dynamic profession. Now if you have any questions please write them in the comment section below.