The Government of Punjab has announced the two-year age relaxation for PMS and all PPSC examinations. This announcement came because no examination of PMS was held in 2021 due to the Corona Virus pandemic. Now the government has given all the aspirants of PMS and other competitive examinations two-year age relaxation.
According to the announcement:
The Punjab government has decided to offer a two-year age relaxation across the board to candidates appearing for all posts advertised by the Punjab Public Service Commission (PPSC), including the Provincial Management Service (PMS).
The Standing Committee of Cabinet on Legislative Business chaired by Punjab Law Minister Basharat Raja last month had approved allowing a one-time one-year age relaxation to candidates aspiring to appear for the PMS competitive examination.
The committee had met and taken a decision on a summary moved by the PPSC chairman, wherein he had requested for one-year age relaxation to the PMS aspirants as the commission had not conducted the examination during 2021 due to the coronavirus pandemic. The chairman stated that many a candidate would become ineligible if the age relaxation was not granted, and lose their right to appear for the competitive examination.
When the standing committee's decision reached Chief Minister Usman Buzdar, it is learned, he asked the committee to consider a two-year age relaxation in the wake of the ongoing pandemic. The chief minister also maintained that age relaxation not only is given to PMS candidates but to all those appearing for different competitive examinations advertised by the PPSC.
Chief Minister Usman Buzdar has agreed to offer two years of age relaxation to the PMS competitive examination candidates as well as expressed consent to extend the same facility to other PPSC candidates too, said a spokesman.
In-principle approval has been given in this regard which would also be approved by the provincial cabinet.
To complete legal formalities, the Standing Committee of Cabinet on Legislative Business chaired by the law minister met at the Civil Secretariat on Wednesday. It agreed to the proposal and decided to forward a fresh summary to the CM for final approval by the cabinet.
The committee decided that the age limit for the next examination would be counted from Jan 1, 2022. This relaxation, however, will not serve as a precedent.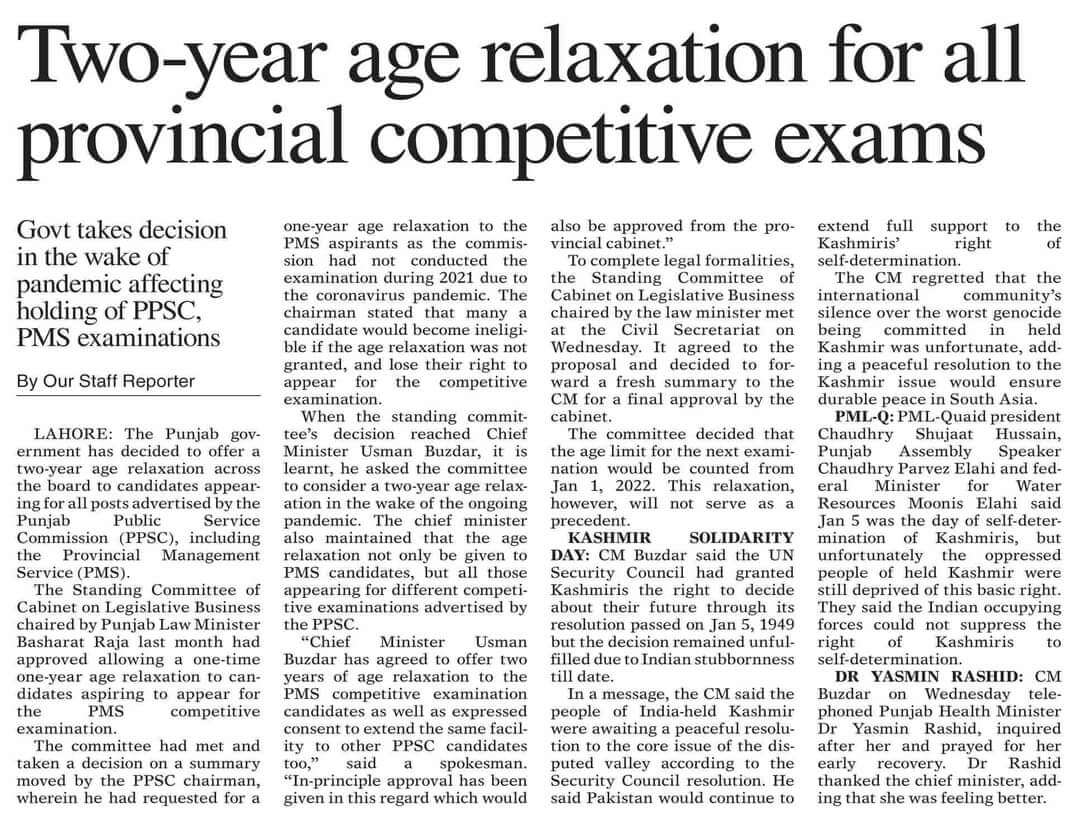 You may also like these: