This is a guide about Screening Test Syllabus for CSS 2023. The Federal Public Service Commission (FPSC) announced to hold the Screening Test for Central Superior Services (CSS) 2023. The FPSC Said that from CSS 2022 they will hold a Screening Test to scrutinize the serious candidate for the CSS examination. The FPSC also announced the Syllabus for Screening Test from CSS 2022. In this article, you will find the Screening Test Syllabus for CSS.
The FPSC holds CSS competitive examination annually for recruitment to posts in BS-17 in twelve (12) occupational groups/services, mandated under section 7 of FPSC ordinance 1977 Annex-I. Over the years, the number of applicants for the CSS competitive examination has increased. FPSC has observed that from 1998 to 2019, on average, the number of applications increased by 10% annually. In the years 2020 and 2021, a surge of 69% is seen as compared to previous years.
In line with CCIR decision Annex-III, FPSC was directed to revisit the CSS competitive examination system by studying international best practices and incorporating the views of various stakeholders. It is pertinent to mention here that, screening tests are held in SAARC countries to filter candidates for the main examination.
In order to effectively manage the increase in the number of candidates and to reduce the processing time for the CSS competitive examination from 20 to 12 months, FPSC intends to introduce a Screening Test.
See the CSS Examination 2023 Schedule here.
Here is the Screening Test Syllabus for CSS 2023:
Sr. #
Subject
Marks (200)
1
Islamic Study:

Civics & Ethics: for non-Muslims (they must opt Civic & Ethics or Islamic Studies)

20
2
Urdu: Grammar usage, translation
20
3
English: Vocabulary, Grammar usage, comprehension
50
4
General Abilities:
Basic Arithmetic, algebra & geometry (SSC level), logical problem solving, analytical ability, and mental abilities
60
5
General Knowledge:
Everyday Science, Current Affairs, and Pakistan Affairs
50
This is the syllabus for the CSS Screening Test for CSS 2023 onwards.
Guidelines about CSS Screening Test / MCQ Based Preliminary Test (MPT)
The FPSC has notified the following guidelines about CSS Screening and MCQ-based Preliminary Test (MPT) 2023:
MPT will be effective from CSS 2022 onwards.
It is a mandatory qualifying test for appearing In the main written CSS 2022 examination.
Appearing in the MPT will not be counted as a chance.
MPT will comprise 200 multiple choice questions (MCQ) of one mark each.
No negative marking
The Time Duration will be 200 Minutes.
The qualifying threshold for MPT is 33% marks or 66 out of 200.
The answer key will be uploaded to the FPSC website on the same day after the conclusion of the test.
Candidates will be allowed to take a carbon copy of the answer sheet.
MPT will be a knowledge-based test.
A score of MPT will be valid only for the same year's CSS examination and will not be counted towards over marks determining the final merit position.
The cut-off date to determine eligibility in terms of age, qualification, domicile, etc. is 31.12.2022.
The fee for MPT will be Rs. 250/- (non-refundable).
Eligibility for CSS Screening Test / MCQ Based Preliminary Test (MPT)
All graduates having at least 2nd Division in Bachelor's degree and between the age of 21 to 30 years on the cut-off date 31st, December 2022 are eligible to apply.
Two Years of age relaxation is admissible to the categories specified in CSS Rules 2019 under section 6 sub-section 2 of these Rules.
CSS Screening Test Advertisement and Test Dates
The FPSC will soon advertise the CSS Screening Test / MCQ-based preliminary test 2023. The Candidates have to pay an Examination Fee of Rs. 250/- before applying online at the FPSC official website.
CSS 2023 Advertisement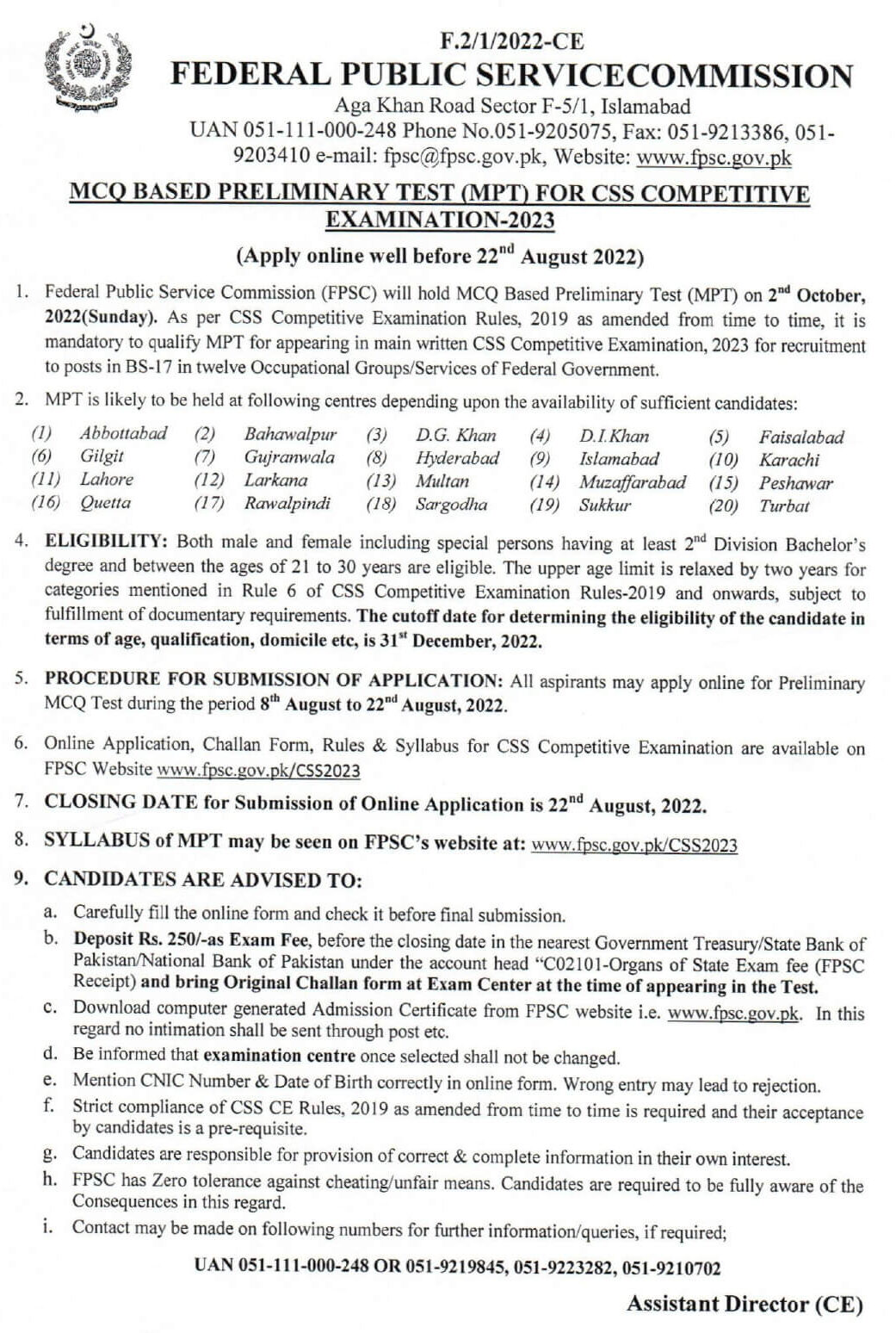 Practice Papers & Answer Keys for CSS Screening Test
Here is a Practice paper and its answer key for Screening Test. View Paper here.
CSS Screening Test Date
The CSS Screening Test will be held as per the following schedule: (dates can be changed by FPSC)
| | | |
| --- | --- | --- |
| 01. | Advertised Notice | 7th August 2022 |
| 02. | Online Application for Screening Test | 8th August to 22nd August 2022 (15 days) |
| 03. | Conduct of Test & Posting of Answer Key on Web | 2nd October 2022 (Sunday) |
| 04. | Official Result Announcement | 17th October 2022 |
| 05. | Forms & Documents from MCQ Test Qualifiers | 30th October to 14th November 2022 (16 days) |
| 06. | Main Written Examination (commencement date) | 1st February 2023 (Wednesday) |
Download the FPSC public notice for Screening Test 2023.
You also like this: