Find here the PMS Public Administration Paper-I 2022. PMS Public Administration past Paper-I. Provincial Management Services (PMS) is a competitive examination conducted by PPSC.
PMS Public Administration Paper-I of 2022
The following questions were given in the paper:
Q1. Over the past few years, various ministries have established "Delivery Units" such as Prime Minister's Performance Delivery Unit (PMDU), Social Protection Delivery Unit (formerly Ehsaas Delivery Unit) etc. What is the purpose of these delivery units and why are they needed, despite of having complete ministerial structure and staff?
Q2. A system of local government that is genuinely empowered politically, administratively, and financially is the heart of democracy. Describe the Local Government System under Devolution of Power Plan 2001, its structural framework, innovative features, challenges and future prospects.
Q3. Has the eighteenth amendment been a hurdle in implementation of Single National Curriculum (SNC) of the Federal Government? Justify your answer.
Q4. What major challenges have arisen as a consequence of the global trend towards democratization, privatization and globalization of the world economy? How Pakistan Civil Services as an institution can combat these challenges?
Q5. Why do public policies fail? Elaborate by citing two public policies in Pakistan that failed to achieve their objectives.
Q6. A budget is a powerful instrument of legislative control and a tool of financial administration. Briefly explain the methods and the actors involved in the budgetary process from the preparation, enactment and execution of the budget.
Q7. Some scholars argue that 'specialists' should be inducted into the public service instead of generalist. Give your opinions on this statement with examples.
Q8. Differentiate between "Orthodox" Public Administration and the New Public Management approach by focusing on the tenets, challenges, remedies and towards organizational regulation.
View the PMS public administration paper-II 2022: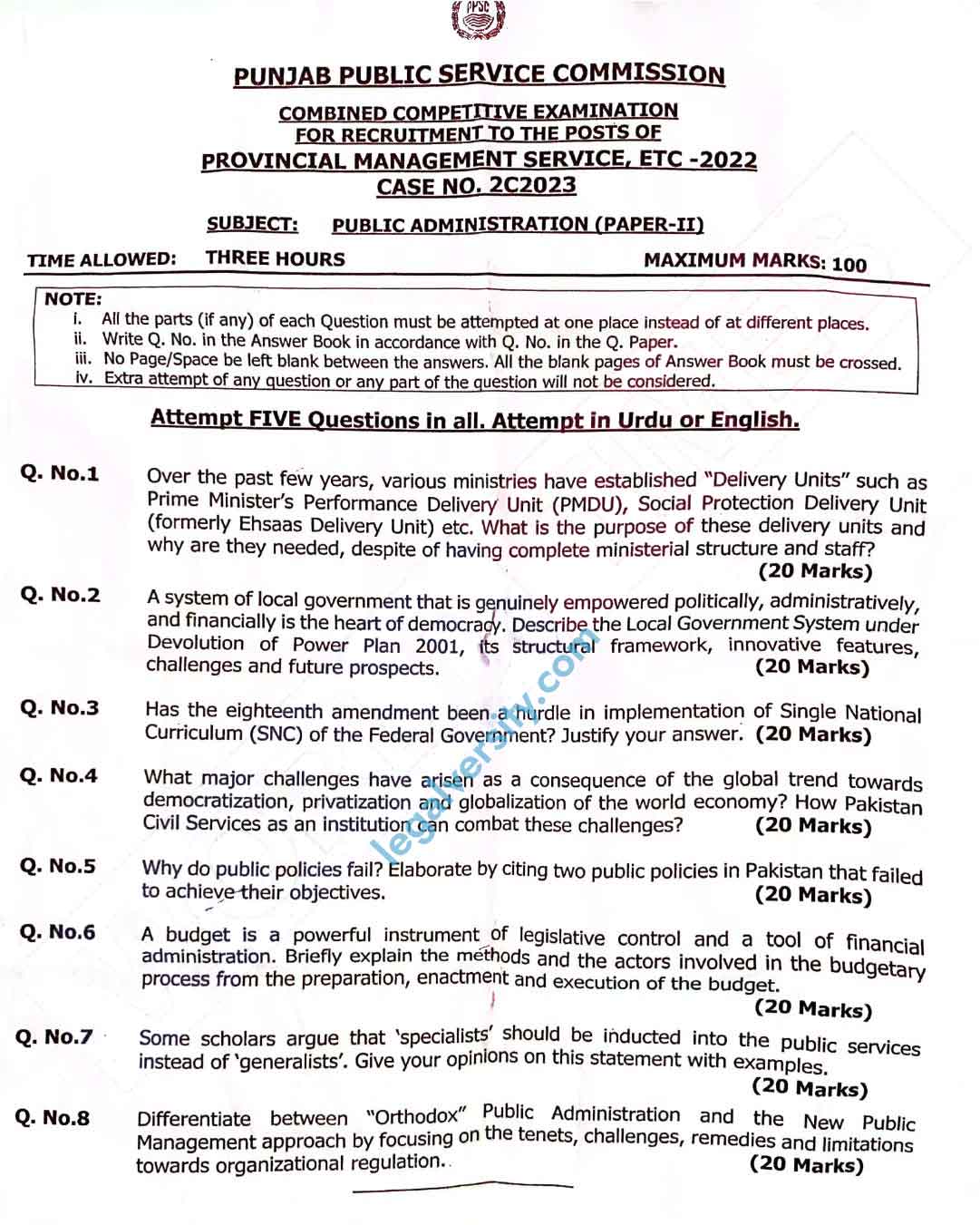 Also Read: