Find here the PMS Public Administration Paper-I 2022. PMS Public Administration past Paper-I. Provincial Management Services (PMS) is a competitive examination conducted by PPSC.
PMS Public Administration Paper-I of 2022
The following questions were given in the paper:
Q1. Public Administration is a newly emerged discipline compared to other disciplines of the social sciences. Why is it necessary to study public administration as a separate discipline? What is the relationship of public administration with other social science disciplines such as political science, economics, and law?
Q2. What are the challenges facing public organizations in the 21st century? How can these challenges be addressed?
Q3. Political actors seek to influence the outcome of a political process through direct or indirect actions. Describe the policy-making process and the actors who play a significant role in the policy-making process and in shaping administrative issues.
Q4. Explain the concept of a performance budget. How can this approach be used to improve the efficiency and effectiveness of government programs and services? What are some examples of successful implementation of a performance budget?
Q4. Public Sector HRM has been characterized by the creation of more flexible structures and processes nowadays. Compare and contrast between the traditional and a new approach to public management. What are the key issues and challenges of implementing an efficient HRM in the public sector?
Q6. Decision making is the process by which an optimal choice is made among several possible alternatives of solutions. Write down the bureaucratic, rational, and incremental approaches to decision-making with an example of each.
Q7. Discuss the importance of decentralization in governance. What are some effective strategies for implementing decentralization?
Q8. Explain the concept of "whistleblowing" and its role in preventing administrative corruption.
Q9. What is the role of public participation in development? Signify the relationship between participatory development and good governance, and its outcomes.
View the PMS Public Administration paper-I 2022: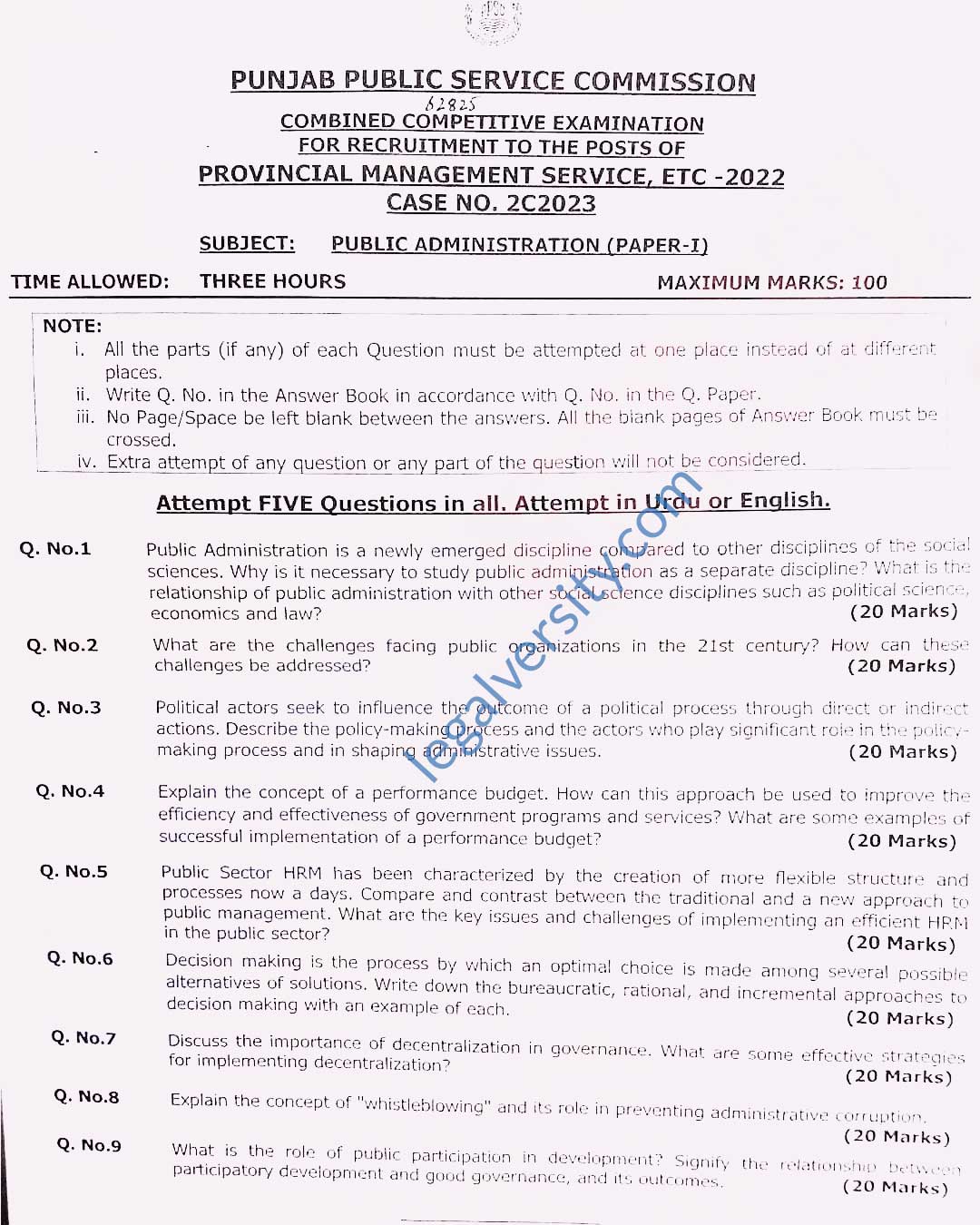 Also Read: