In this article, you will get the PMS Pakistan Studies Paper 2021. Get Pakistan Studies Paper 2021. Provincial Management Services (PMS) is a competitive examination held at the provincial level. PPSC is conducting PMS 2021 from June 23, 2022.
PMS Pakistan Studies Past Paper of 2021
Q1. Discuss the political ideology of Sir Syed Ahmed Khan towards the Indian National Congress with particular reference to his policy measured to counter the imminent danger of majority rules in India.
Q2. Highlights the main problems in the industrial sector of Pakistan and also suggests measures for its improvements.
Q3. Through Allama Iqbal's writings and views of Quaid e Azam explain the conceptual understanding of the Islamic state.
Q4. The debacle of 1971 was more the result of Big Power's leaning towards India rather than our domestic failure. Discuss the above statement by critically evaluating Poland's resolution in the UN security council.
Q5. Examine Pakistan's relation with China in the context of CPEC. How is it going to be a game-changer for the South Asia region?
Q6. Examining development without social change generates alienation in society. Discuss Pakistan's economic problems in the Musharraf era, in the light of the above statement.
Q7. Write a short note on any two of the following:
Energy Crisis in Pakistan
Kashmir conflict
National security challenges
Q8. Fill in the Blanks:
1. Nadwatul-Ulama (Council of Muslim Theologians) was founded in the year ___ in the city ___ of India.
2. Pakistan tested the nuclear device on ___ in the district ___ of Baluchistan.
3. Khanjrab Pass connects Pakistan with ___ while Khyber Pass connects Pakistan with ___.
4. Chaudhary Rehmat Ali was a graduate of  ___ College Lahore, which was established in ___
5. Major Tufail Muhammad was cited with Nishan-i-Haider for his undaunted valor in one of the skirmishes that took place in ___  in the year ___
6. NCOC was formed in ___  in order to combat ___
7. Sindh Madrassa-Tul-Islam was founded In the year ___  in the city of ___
8. The Simla Agreement between India and Pakistan was signed in the year ___ and at that time, the Prime Minister of India was ___
9. Faraizi Movement was started by ___ in the province of ___
10. The Indus Water Treaty was signed between India and Pakistan on ___ at ___.
View Pakistan Studies paper 2021: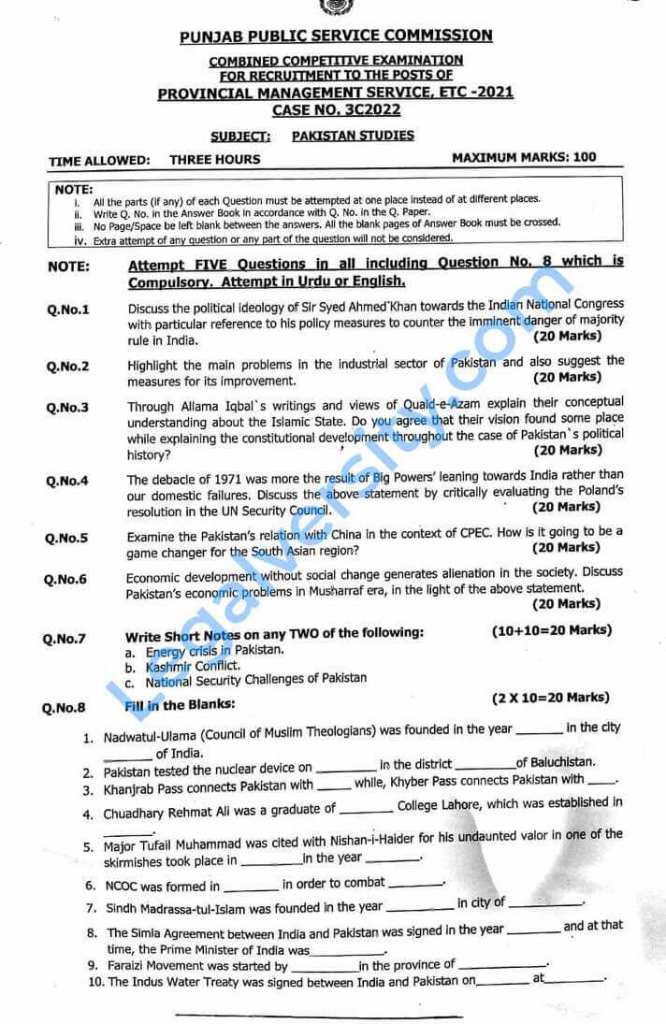 You may also like these articles:
See Other PMS 2021 Past Papers