Here you will get the PMS History Paper-I 2021. PMS History Paper-I 2021. Provincial Management Services (PMS) is a competitive examination held at the provincial level. PPSC is conducting this PMS 2021 from June 23, 2022, to July 07, 2022.
PMS History Paper-I of 2021
The following questions were asked in the PMS History Paper-I:
Q1. What factors led to the rise of Fascism in Europe by the mid-20th century?
Q2. Discuss the implications of China's Belt and Road Initiative.
Q3. The reforms introduced by Napoleon Bonaparte were more lasting than the victories he won on the battlefield. Discuss.
Q4. Write down a comparison of the theories of 'Clash of civilizations' and 'End of History.' Which theory is far more befitting for the modern world order?
Q5. The fall of the Soviet Union proved the failure of Marxism and the rise of China proves its success' (Slavoj Zizek). Do you agree or disagree with this quote? Support your answer using relevant examples.
Q6. Evaluate the causes of the First World War. How far Germany was responsible for the eruption of the First World War? Q. No. Discuss ups and downs in US and Pakistan relationship and its repercussions on both.
Q8. What were the causes of "The Arab Spring"? Identify its Impact on the future politics of the region.
View the History Paper-I 2021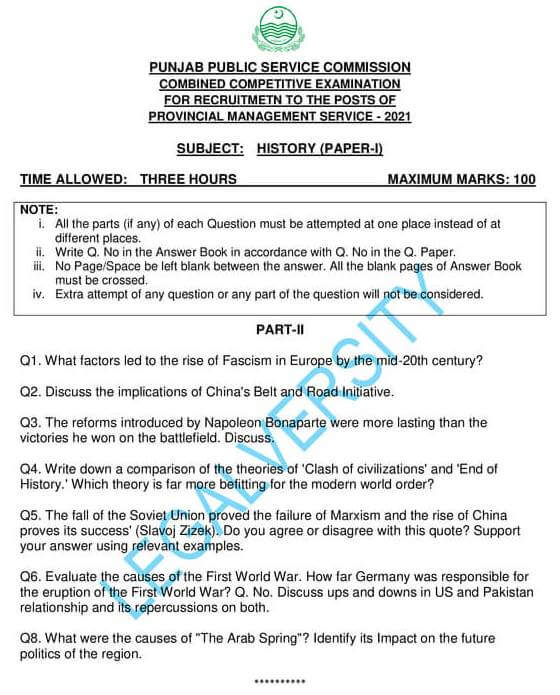 You may also like these articles:
See Other PMS 2021 Past Papers