Here you will find the PMS Arabic Paper-I 2022. PMS Arabic past Paper-I 2022. Provincial Management Services (PMS) is a competitive examination conduct by PPSC. Arabic Paper-I was held on Saturday, June 10, 2023.
PMS Arabic Paper-I of 2022
The following questions were given in the paper:
Q1. Write short notes on the following topics:
Art of Maqamat
Pre Islamic Literary Markets of Arabs
Q2. Write a comprehensive note on the services of Ghulam Ali Azad Bilgrami to Arabic Language and Literature in the Sub-Continent. (20 Marks)
Q3. Define Al-Fasahat and Rhetoric and its literary aspects and differentiate them. (20 Marks)
Q4. What is the difference between Ilmul Bayanand Ilmul Ma'ani. (20 Marks)
Q5. Write a note on the services of Khalil bin Ahmed Al Farahidi linguistics. (20 Marks)
Q6. How many kinds are of Arabic sentence? Differentiate between Jumla Ismia and Jumla Felia with examples from Arabic Language and literature. (20 Marks)
Q7. Write a note on contribution of Arabs in the field of criticism with critical study.
View the PMS Arabic Paper-I 2022: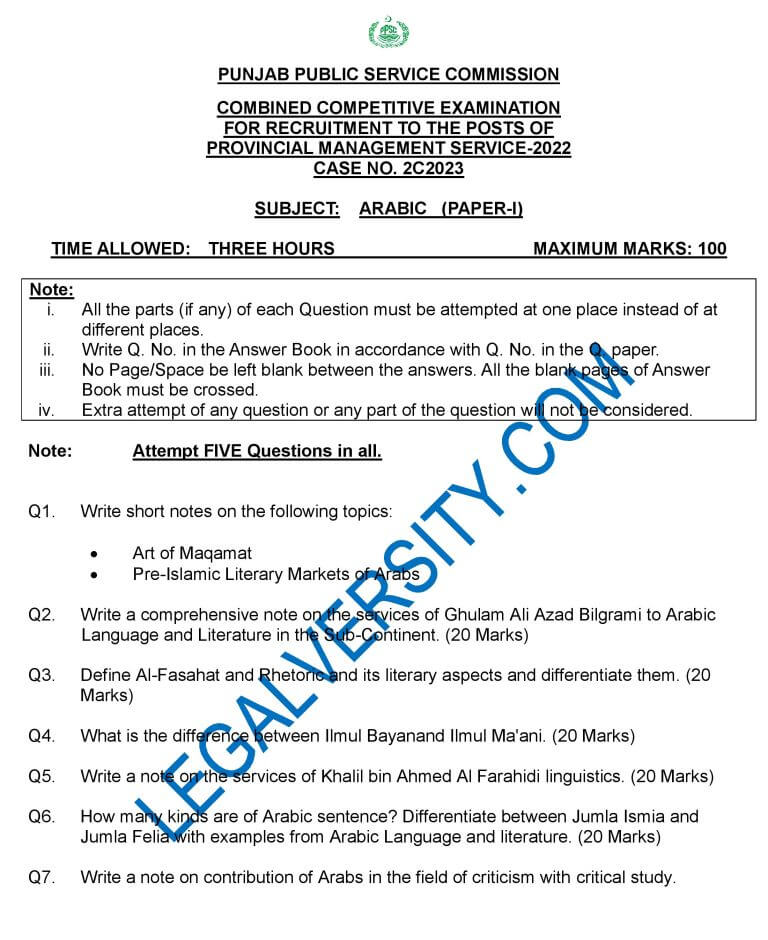 Also Read: