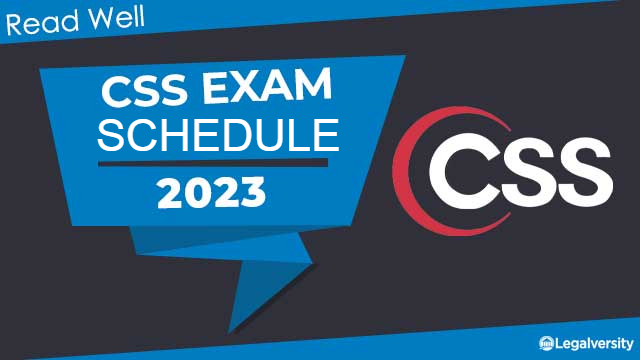 Here you will know about the Exam schedule for CSS 2023. FPSC has announced the CSS 2023 examination schedule.
According to the schedule, the advertisement for CSS 2023 will be public on the FPSC website on 1st July 2022.
FPSC will ask the aspirant to apply for MCQ Based Preliminary Test (MPT) or Screening Test from 7th July 2022. The Aspirant can apply for a Screening Test between 8th August to 22nd August 2022. The Ad will remain for 15 days. FPSC will arrange the seating plan for conducting the MPT/Screening Test till 10th September 2022.
The MPT or Screening Test for CSS 2023 will be held on 2nd October 2022 (Sunday). The Result of the Screening Test will be announced on 17th October 2022.
After the MPT / Screening Test, the advertisement for the CSS 2023 Written examination will be made public. The aspirants who have passed the screening test can apply for the CSS written exam between 30th October to 14th November 2022. After applying online, the candidate has to send his hard copy of the application form to the FPSC office within ten days of the closing date which is 14th November 2022.
The CSS 2023 written examination will commence on 1st February 2023 (Wednesday). You can read more about CSS 2023 in this complete exam Guide.
Complete Exam Schedule for CSS 2023
| Sr. # | Activity | Timeline |
| --- | --- | --- |
| 1 | Advance Public notice regarding the schedule of CSS 2023 for placement on the FPSC website | 1st July 2022 |
| 2 | Advertisement regarding schedule and receipt of Online Applications for MPT CSS 2023. | 7th August 2022 |
| 3 | Receipt of Online application for MPT CSS 2023 | 8th August to 22nd August 2022 (15 days) |
| 4 | Reservation of Halls & preparation of breakup | 10th September 2022 |
| 5 | Conduct of MPT/Screening Test and posting of Answer Key | 2nd October 2022 (Sunday) |
| 6 | Announcement of MPT result | 17th October 2022 |
| 7 | Advertisement for Written Exam | 30th October 2022 (Sunday) |
| 8 | Receipt of online applications from MPT qualifiers | 30th October to 14th November 2022 (16 days) |
| 9 | Receipt of hard copy of online application along with documents | Until 24th November 2022 |
| 10 | CSS Written Examination 2023 (commencement date) | 1st February 2023 (Wednesday) |
CSS 2023 Advertisement
Here the CSS 2023 screening test advertisement: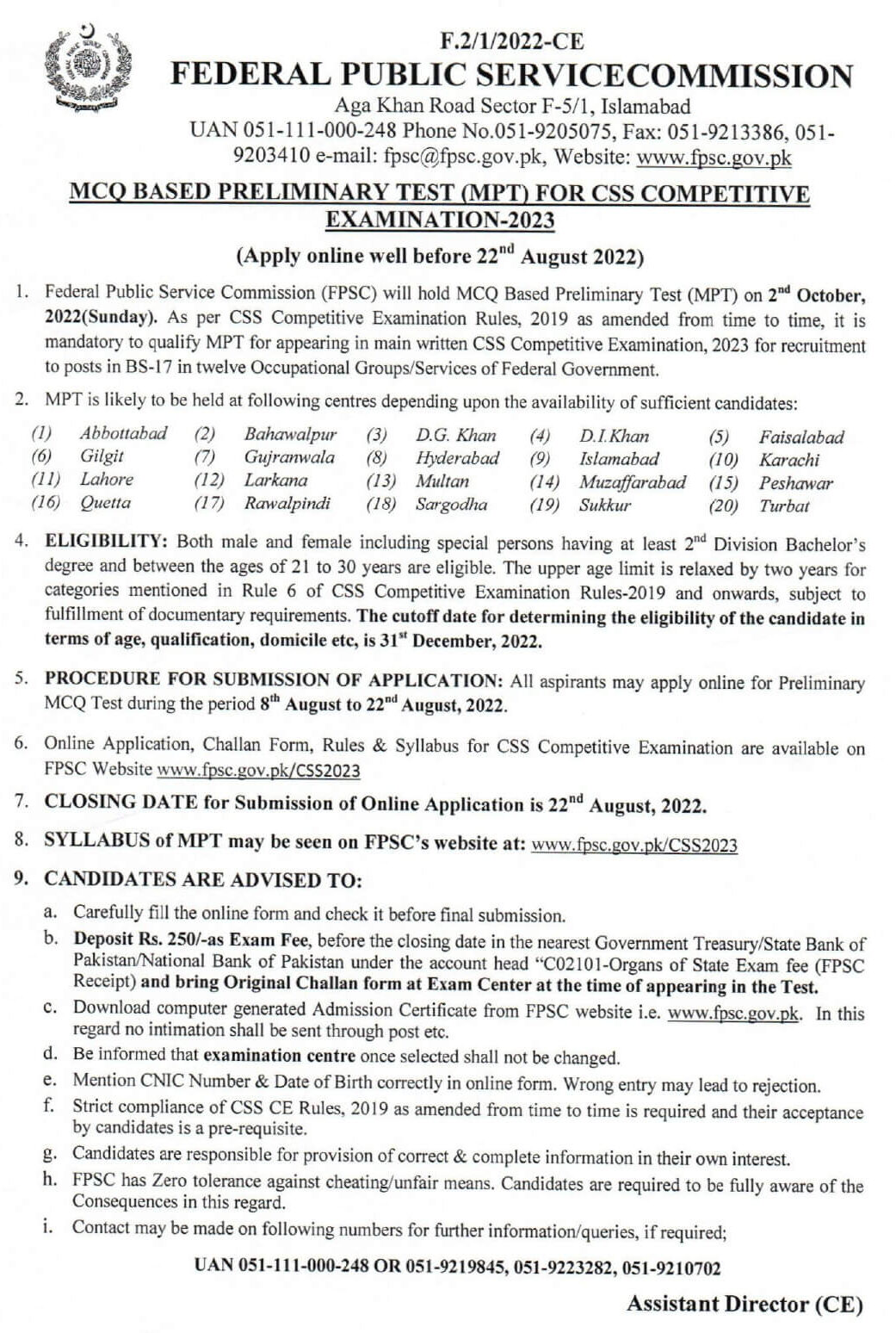 You also like this: