Here you will find the CSS Public Administration Paper 2021. You can view or download this CSS Public Administration Paper 2021. The Public Administration paper of CSS was held on 24-02-2021.
Get CSS Public Administration Paper 2021
The following questions were asked in the CSS Public Administration Paper of 2021:
Q2. Define Normative and Empirical approaches of Public Administration and their implications to Pakistan's administrative system.
Q3. Discuss the need for Civil Service neutrality in development administration. Suggest measures for achieving and stretching its practical application in Pakistan.
Q4. In spite of the numerous advantages of social audit, its arrangement has been mostly ineffective because there is no legal provision for punitive action. Comment.
Q5. The idea of a performance budget lies beneath the world 'result'. In light of this statement examine the elements of performance-based budgeting with reference to Pakistan.
Q6. Discuss "Hawthorne Effects", undertaken by George Elton Mayo in the development of the human relations school of thought and its subsequent implication for administrative behavior.
Q7. Examine how corruption in public service undermines democracy. Discuss its possible redressal mechanism.
Q8. Write short notes on any TWO of the following:
Management by Objectives (MBO)
Abraham Maslow's Hierarchy of Needs
Differentiate between Authoritarian and Transformational styles of leadership
Note: see the CSS Public Administration notes and study material here. 
You can download this Public Administration Paper of 2021.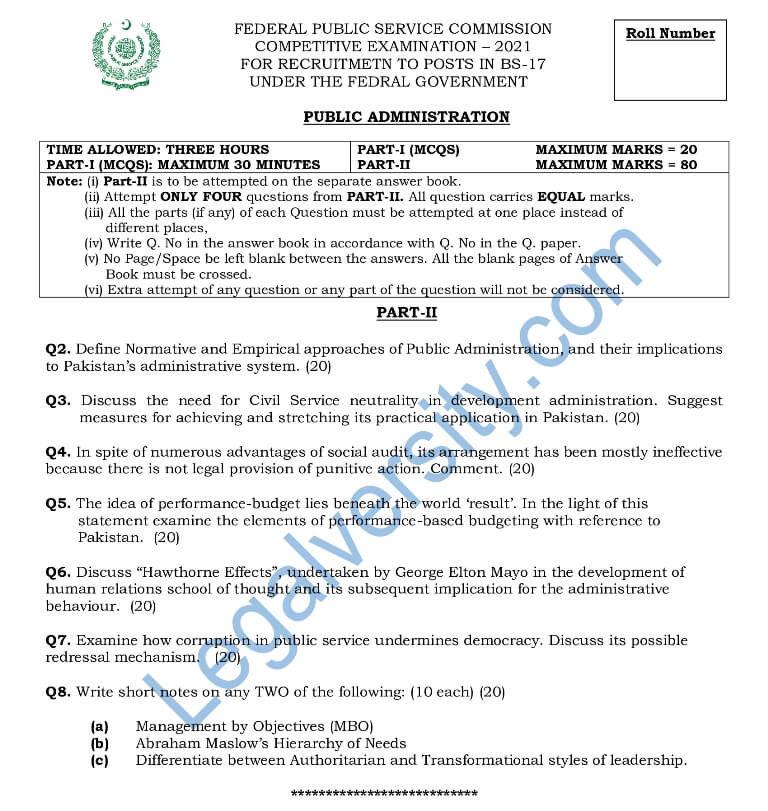 Other CSS (Compulsory) 2021 Papers:
➤ Essay
➤ English (Precis & Composition)
➤ Object (Precis & composition)
➤ CSS General Science & Ability
➤ Islamic Studies
➤ Pakistan Study
➤ Current Affairs
Other CSS (Optional) 2021 Papers:
➤➤ View All CSS Papers of 2021 here
➤ IR paper-I
➤ Economics Paper-I
➤ Economics Paper-II
➤ Political Science-I
➤ Political Science-II
➤ Accountancy & Auditing Paper-II
➤ Computer Science Paper-II
➤ Anthropology
➤ Geography
➤ Chemistry Paper-I
➤ Chemistry Paper-II
➤ Physics paper-II
➤ Physics Paper-I
➤ Botany
➤ Statistics
➤ Sindhi
➤ Psychology
➤ Agriculture & Forestry
➤ Town Planning
You may also like these: