In this article,  you will find the CSS Philosophy Paper 2021. You can view or download this CSS Philosophy Paper 2021. The Philosophy paper of CSS was held on 23-02-2021.
Get CSS Philosophy Paper 2021
The following questions were given in the CSS Philosophy Paper of 2021:
Q2. Critically evaluate Mill's Method of Experimental Inquiry.
Q3. Explain Kant's Copernican Revolution in Philosophy.
Q4. Explain Simple and Complex ideas with special reference to Locke.
Q5. Define Utilitarianism. Discuss how a utilitarian decides whether or not an act is morally right.
Q6. Discuss the concept of Khudi (Ego) with special reference to Iqbal.
Q7. (a) Explain and criticize the Pragmatic Theory of Truth.
(b) Define Philosophy. What is its relationship with religion?
Q8. Write notes on any TWO of the following:
Deductive Method
Empiricism
Social Contract Theory
You can download the CSS Philosophy Paper 2021.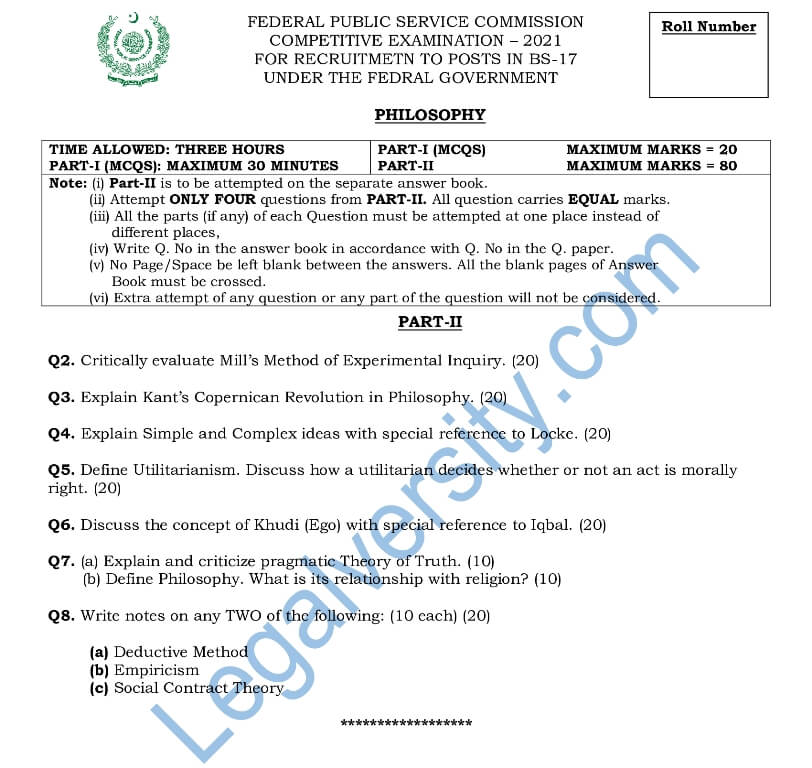 Other CSS (Compulsory) 2021 Papers:
➤ Essay
➤ English (Precis & Composition)
➤ Object (Precis & composition)
➤ CSS General Science & Ability
➤ Islamic Studies
➤ Pakistan Affairs
➤ Current Affairs
Other CSS (Optional) 2021 Papers:
➤➤ View All CSS Papers of 2021 here
➤ IR paper-I
➤ Economics Paper-I
➤ Economics Paper-II
➤ Political Science-I
➤ Political Science-II
➤ Accountancy & Auditing Paper-II
➤ Computer Science Paper-II
➤ Anthropology
➤ Geography
➤ Geology
➤ Chemistry Paper-I
➤ Chemistry Paper-II
➤ Physics paper-II
➤ Physics Paper-I
➤ Botany
➤ Statistics
➤ Sindhi
➤ Psychology
➤ Agriculture & Forestry
➤ Business Administration
➤ Public Administration
➤ Town Planning
➤ European History
➤ History of USA
➤ History of Pakistan & India
➤ LAW
You may also like these: